CHS should participate in National Childhood Cancer Awareness Month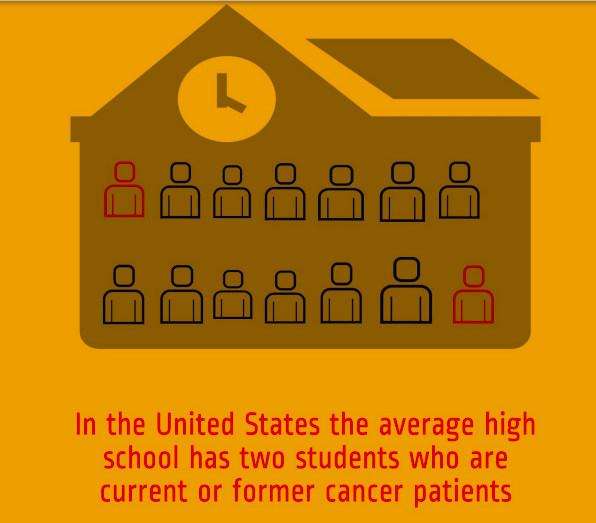 Every hour a child is diagnosed with cancer. Every six and a half hours a child's life is lost to cancer, according to the Pediatric Cancer Foundation.
September is national Childhood Cancer Awareness Month, which usually goes unrecognized. CHS constantly holds fundraisers for various causes, including cancer research. During September, CHS should focus on raising money and awareness for Childhood Cancer.
According to Athletic Director Scott Rivinius, multiple sports teams have conducted fundraisers in the past for cancer research. Last year, the girls' volleyball team, field hockey and both boys' and girls' basketball had cancer related fundraisers.
Childhood cancer research is extremely underfunded, so helping charities that fund research for new treatment could increase the likelihood of breakthroughs.
According to the Pediatric Cancer Foundation, only 3.8 percent of all of the federal government's cancer research funding goes to pediatric cancer.
In twenty years, only two new cancer drugs have been approved for pediatric use, according to the Ronan Thompson Foundation, a non-profit dedicated to finding a cure for neuroblastoma.
Childhood cancer is not rare, but is constantly ignored despite low survival rates.
According to the American Childhood Cancer Association, the survival rate for most childhood cancers is five years after diagnosis.
According to SGA Sponsor Orly Santos, the fundraising process is exciting because CHS is "supporting those organizations that need our support."
Various organizations which are truly focused on raising the awareness and funding for childhood cancer need our support just as much, if not more, than other charities CHS has supported.
According to Rivinius, sports teams have supported the American Cancer Society (ACS).
According to a February 2013 Huffington Post article, only a penny is donated for every dollar that ACS raised in 2010 to childhood cancer funding and research.
Some may say that CHS cannot fundraise for every cause during every awareness month. However, this is a worthy cause for CHS to tackle because it has affected some of our students.
In the United States, the average high school has two students who are current or former cancer patients, according to Emma's Touch, a childhood cancer foundation.
Fundraising at CHS will spread awareness, which is just as important as the capital it raises. The Susan Komen Breast Cancer Foundation demonstrates how closely awareness relates to fundraising.
According to Rivinius, various sports teams have tried to conduct annual fundraisers for specific awareness months in the past, specifically October for breast cancer awareness month.
If teams can fundraise and spread awareness for breast cancer in October, then it should be possible to do the same for childhood cancer during September.
According to the Ronan Thompson Foundation, every school day in the United States about 46 children are diagnosed with pediatric cancer. Seven of those children will die. CHS can help charities who are working to reduce this number to zero.