Plane crash causes power outages and a day off of school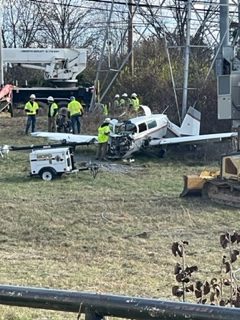 On the last day of Thanksgiving break, MCPS students were physically and mentally preparing to return to school until it was unexpectedly closed on Nov. 28. Nobody would have ever guessed that a plane crashing into power lines would result in a day off this year. 
On Sunday afternoon, a small plane from Westchester, New York crashed into power lines in Gaithersburg. The plane was suspended 100 feet in the air and tangled in the wires. The pilot and his passenger were stuck in the plane for hours. Eventually, just before 1 AM., the occupants were brought down to safety. 
The pilot and passenger were identified as Patrick Merkle, 65-years-old, of Washington D.C. and Jan Williams, 66-years-old, of Louisiana. The pilot was planning on landing at Montgomery County Airpark which is four miles northwest of the crash. The accident resulted in around 85,000 Pepco customers without electricity. In addition, there were over 40 MCPS schools and six central office facilities without power. Not only did this affect the power, it created problems with maintenance, buses and food services.
"I think it is important for schools to close during an emergency as students' well-being is more valuable than learning" WCHS senior Viraj Singh said. "It is important for students to feel safe in a learning environment, only then the students can achieve optimal results."
Chromebooks are used by nearly all WCHS students to access Canvas. Without power, students all around Montgomery County are unable to do their assignments and homework.
"My life and the majority of WCHS students are extremely dependent on the internet and if you lose power you are forced to be disconnected from the world" Singh said. "Due to the lost power, I couldn't do anything such as homework or even basic entertainment like watching a movie."
Many MCPS teachers live in other areas in Montgomery County, including Mahnoosh Farsaii, a science teacher at WCHS. Ms. Farsaii lives in Gaithersburg and had a first-hand experience of the plane crash aftermath.
"The crash happened approximately a mile from my house. My family heard sirens go off at the time of the crash, but we did not hear any noise from the impact of the crash" Farsaii said. "People who live in the vicinity of the plane crash were asked not to leave their houses unless it was an emergency."
Traffic lights lost power during the outage and many stopped working. Many people who weren't aware, were trying to get home or to other places during the time the power was out. This caused the roads to be very dangerous.
"My family and I went to observe the plane crash the next morning," Farsaii said. "The plane was no longer entangled with the electrical tower. It had been brought to the ground and most of the plane was intact but severely damaged. The front of the plane (the nose) had broken off" 
The unusual circumstances of a plane crash resulted in the unusual occurrence of a day off due to power outages. While students may have been happy that their Thanksgiving break was slightly extended, this day off was a necessity in order to ensure school systems were operating properly to host 165,000 students and that families did not need to endanger themselves to attend school.