Residents protest plans for disabled housing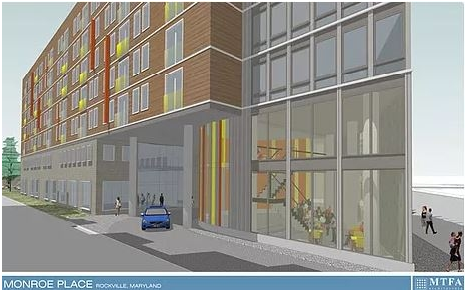 Main Street, a new non-profit organization is currently constructing a new building in Rockville to serve a center of living for adults with disabilities. Projected to open in 2020, the apartment complex is now being contested by members of the public.
Although extremely beneficial for special needs adults and their families, the project thrills others in the residential area much less.
"The property has been vacant for a long time, and people are not interested in seeing it developed," Main Streets' Attorney Steven Robins said. "This is unrealistic given that it [the property] is 500 feet from the Metro and has the most dense zoning classification in the city of Rockville."
A community meeting was held Sept. 19 for people to voice their concerns over Main Street's plans.
According to CHS parent and co-founder of Main Street Beth Freedman, "Opponents of the building have stated that they want the city of Rockville to buy the land for a park rather than let Main Street buy the land for a building."
However, there is already a city park next to the complex.
According to Robins, it is not uncommon for individuals living in close proximity to a project to have opposition, but the majority of attendants at the community meeting were in favor of Main Street's plans, so it is likely that a public hearing will go in their favor.
The founder of Main Street, Jillian Copeland, argues that Main Street is an important project that will better the overall culture in Rockville Town Center.
"The Main Street inclusive model will benefit the entire community by offering a gathering space for social engagement, unparalleled accessibility, and dynamic educational, vocational and therapeutic programming," Copeland said. "These spaces will allow all [of the] community [regardless of]disability socioeconomic status [and] age to join."
Main Street will be the first living complex of its kind, with affordable housing and an integrated community for adults with disabilities in the DMV area. The project will have 70 units, and will set aside at least 18 for the underserved population disabled individuals.
"It is a win-win; I think this is going to be a model that others will follow," said Robins.