Student Panels Improve Tolerance and Communication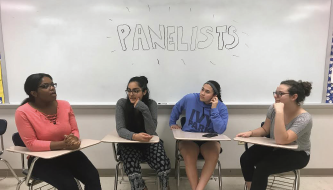 A student panel was created at CHS April 3 in order to gain student input on topics such as  inclusiveness and bias.
The goal of the student panel is to bridge the gap between students, teachers and administration. CHS is currently taking steps to creating a more welcoming and cohesive learning environment. Administration hopes to use programs to involve students in the school and get their direct input.
"There are quite a few avenues we are taking to engage student voices," assistant school administrator La Faye Burris said. "Focus groups meet twice a month during lunch, and lots of programs such as the Minority Scholars Program, the revived Student Senate, our 'We Are Churchill' photo and video campaign, as well as student panels who've shared during our monthly staff meetings to help get students involved."
The panel was selected from students that are part of the Minority Scholars Program among others, resulting in a total of 35 students on the panel. They were asked questions regarding potential improvements to the school and CHS community as a whole.
According to Burris, the students responded to five questions. The questions covered topics such as discrimination and outlets students can go to concerning biases or discrimination. Some questions also asked students if improvements to administration could be made when dealing with discrimination.  
The original idea for a student panel came from various programs already instilled in CHS as well as the encouragement of teachers who wanted to hear directly from students.
"After each staff meeting we send out a survey," Burris said. "Teachers overwhelmingly wanted to hear what our students had to say about various aspects of our school climate and how they could support them in this educational setting."
In order for the panels to be successful, they required the full participation of both students and teachers.
"Not only did the staff want to hear student voices, but  students also wanted staff to hear their experiences," guidance counselor Puja Sharma said, who was another one of the coordinators of the student panel.
With the new student panel, CHS administration and students hope to achieve a set vision and mission of the school through the participation of both students and teachers.
According to Burris, the panel has come up with the vision statement, "Where All are Proud to Belong," and a mission statement, which reads "All Churchill students will achieve academic success and social-emotional well-being as a result of superior instruction, a welcoming environment, and strong support from peers, staff, and community members."
The overall student voice at CHS is extremely important to help build a better community and improve the school as a whole.
"In support of the Churchill High School mission and vision, student voices are an integral part              in reaching and sustaining an environment that not only promotes academic success and achievement, but also the social, emotional, and overall well-being of students and staff," Burris said.
The student panel is not only a useful medium for conversation, but it will hopefully allow students to know that they can make a direct impact to help improve the school.
"Whenever you provide the process and structure for individuals to engage in meaningful conversations where actionable steps can be taken to support all stakeholders, there is bound to be a significant impact," Burris said. "This comes from the commitment of our staff members and the students that allows for our outcomes to be met."
It is important to consider that the panel should not be the only option for students to have their voices be heard by administration.
"I think what's most important is how the voices of students will be implemented into actual change," Minority Scholars Program officer junior Hana Mangat said. "I think that in order for these changes to be implemented, administration will have to have some sort of system in which student voices are regularly heard and valued."
Bridging the gap between administration and students can be helpful to both parties. By having a simple conversation about making changes, knowledge and understanding can be gained.
"The student panel is important because teachers gain the student perspective and can help innovate their teaching," junior panelist Emily Stein said. "Also students get to voice their opinion which is vital."
The student panel was seen as successful by many of the staff and students in attendance.
"I definitely thought my voice was heard," junior panelist Sheerin Naimi said. "Each panelist had an opportunity to express their opinions. Everyone was very respectful and productive."
Depending on the impact of the panel on the school, it could become a recurring program.
"I certainly hope [the panel will happen next year]," Sharma said. "I also hope this keeps the door open for communication between staff and students.