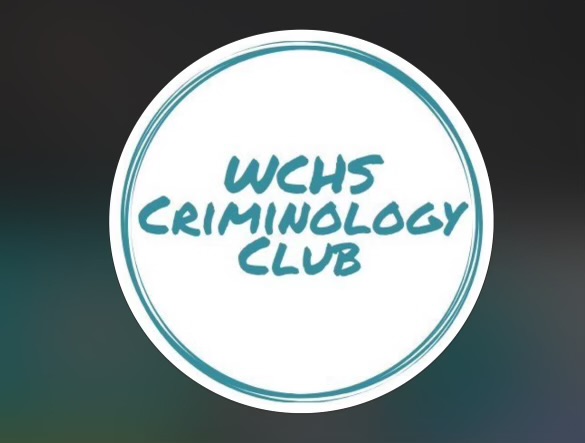 Aspiring criminologists at WCHS may turn to adding forensics to their schedule. However, pursuing their interest usually stops there, as WCHS doesn't offer more criminology classes. The criminology club at WCHS was created in order to create a space for those interested in true crime. 
Created by WCHS seniors Sania Khanna, Chloe Rutberg and Ellie Bottio, this club has been a part of WCHS since 2021. They were inspired to create this club because of their own passions for criminology, but also to allow others who shared similar interests to connect.
"We were inspired to create this club because all of us had an interest in criminology and knew that other people in the school did too," Rutberg said. "We thought having a space where people could talk about their interest in criminology and learn more about it would be a great idea."
The goal of the club is to talk about criminology and recent, and past news relating to true crime. The club hosts various meetings throughout the year, and even a fundraiser.
Story continues below advertisement
"Some past events we have had was one fundraiser for the National Center for Victims of Crime, and our monthly meetings where we educate others about the different topics criminology covers," Khanna said.
The criminology club hosted a fundraiser last year in order to raise money for victims of different crimes. They coordinated with an organization whose goal is to help victims rebuild their lives. They provide support and resources for these victims, in order to help them get back up on their feet.
"We hosted a fundraiser for the National Center for Victims of Crime at California Tortilla. We raised almost $200," Khanna said. "The money was sent to the organization so that they can use the funds for helping and supporting people who have been oppressed, victimized and negatively affected from the criminal justice system."
While they have been active in the past, this club does not plan to stop. In order to keep furthering their interest in criminology, they plan to have various events throughout the year. Also, in order to help students who plan on pursuing criminology, they want to inform them on the types of jobs that they may get, and even get a professional to speak with them.
"We definitely want to try another fundraiser again and also have a guest speaker, specialized in some aspect of criminology, come or call into a meeting," Rutberg said.
The criminology club has become a place for people to collaborate with like-minded individuals who are interested in criminology. It has allowed students to be a part of a niche interest that isn't really taught within WCHS. 
"This club is important because it gives people a space to talk about their interest and passion in criminology," Rutberg said. "It's become a place where we learn how to protect ourselves from becoming victims of crime by highlighting signs or things to be cautious of in the real world."