WCHS can help reduce stress during AP season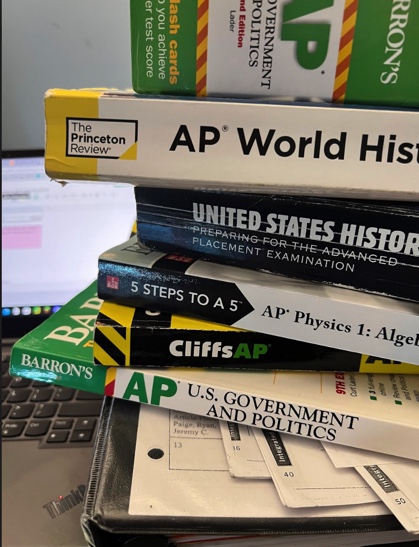 It is no secret that WCHS has one of the most rigorous academics in the county. With 32 AP courses offered, most WCHS students will take at least one AP course and exam in their four years of high school. In fact, according to the WCHS 2022-2023 School Profile, which lists key student statistics from the previous year, nearly 3,000 AP tests from all subjects were administered last year.
As everyone is aware, preparing for these sometimes three to four hour tests is no smooth ride and luckily, everyone can relax. According to Princeton Review, "many students start shifting to AP prep mode one to three months before test day, usually ramping up by spring break."
By the time spring break ends and students return to school, exams are only a few weeks away, and students often feel time would be better spent studying rather than on other assignments from non-AP classes.
Weeks before the AP exam season, teachers who teach non-AP classes, but have students who are taking other APs, should limit their course loads by giving out fewer homework assignments and projects, while also pausing quizzes and important tests until after AP exams.
First off, teachers reducing their course load lowers the already enormous burden and pressure students experience with AP exams. Moreover, by study season, almost all AP courses will end instruction and give students time to study for the exams. Teachers understand the difficulty and hardships students endure to prepare for these exams and give them the utmost flexibility in reviewing for them.
Think about this from a student's perspective. They have many AP exams and want to begin cramming and studying for long hours after school. They also need to fill in time for another crucial Chinese and math test they have the next day. After reviewing those tests, they realize the time they could have spent studying for their AP exams is gone. This is the dismaying dilemma many students face.
Tests and quizzes before the AP exams add unnecessary stress to students, as they have to balance the pressures of AP studying while also maintaining their GPA. Students should not be worrying about studying for other tests weeks before AP tests. These exams are worth college credit and give students a higher chance of getting accepted into selective colleges and most importantly, can only be taken once. Put like this, it is clear what students must prioritize.
The academic environment at WCHS can pressure students into taking AP courses. When registering for classes, counselors recommend up to one AP course in freshman year and then three to four by senior year. However, many people will surpass this recommended load. And with more AP tests to study for, more studying hours per week are needed.
Asking teachers that teach non-AP classes to pause instruction entirely is not realistic. However, the courses should make most if not all assignments done and completed during class time and quizzes and tests to be taken after AP tests, leaving most of students' brain stamina focused on the looming exams. In the end, this is what will help students the most.