Athlete of the Month: Alison Kaiser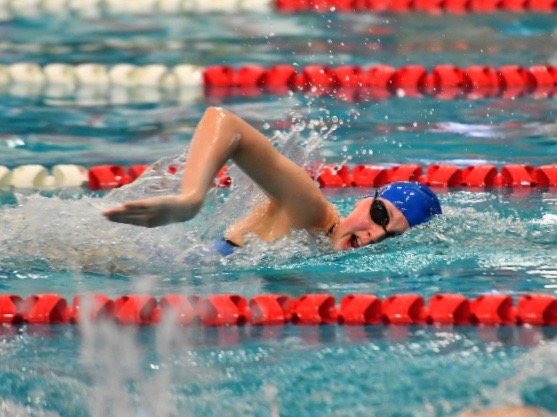 Some say that swimming is an individual sport, since it involves just the athlete and the water and success is determined by one's personal speed. However, to senior Alison Kaiser, captain of the WCHS swim team, the best memories she has are about the team. 
Kaiser has been swimming since she was six-years-old, when her mom signed her up for swim lessons to make sure that she would be safe. She holds the WCHS current record for 100-yard breaststroke, is a captain of the WCHS swim team and recently committed to Emory University where she will be a student and member of the swim team in Fall 2021. 
Kaiser also swims for Rockville Montgomery Swim (her club team) and Regency Estates (her summer swim team). During swim season, Kaiser practices six days a week, including practices once or twice a day and a couple of days at the gym. 
"I love the swim community, because everyone is always supportive towards one another. However, I also like how it is an individual sport, so your success depends on how hard you work and how much you put into it," Kaiser said. 
Some of Kaiser's favorite memories of the WCHS swim team are being with the people that she has met throughout the last three years. Being part of the swim team has taught Kaiser many life lessons and given her many amazing memories she will never forget. 
"My favorite memory from the WCHS swim team was from my freshman year," Kaiser said. "I was fortunate to have the opportunity to swim at Metros Finals in 100 breaststroke, but I remember being very nervous before the race. Right before I got on the starting blocks, I looked across the pool and saw the whole team there supporting me. It was such a special moment, and one I will never forget."
Balancing school work and a rigorous practice/workout schedule has required Kaiser to be disciplined with her time. 
"Managing school with swimming required detailed time management, and lots of sacrifices.  For example, a lot of lunch periods I was doing homework instead of eating lunch with friends," Kaiser said. "However, if you make sure you surround yourself with people who inspire you and encourage you, these people will help you bounce back during the times where you are unmotivated."
Kaiser's positive attitude contributes to her hard work and dedication, making her a better swimmer, teammate and student. Her attitude has also benefited the team as a whole. 
"Even though Alison's best events are breaststroke and IM, my favorite memory of her is how she willingly stepped up to swim the 500 free for us in her sophomore year," Christoper Tappis, a WCHS math teacher and WCHS swim coach, said. "We were thin in that event that year, so I approached her about training for it for our championship meets at the end of the season.  She ended up performing better in it than I would have predicted, and I think she even enjoyed it!"
Besides learning life lessons about teamwork, mental toughness and personal maturity, Kaiser has learned that mindset is everything. 
"The only limits are the ones you put on yourself, so having a positive outlook during practice and at meets can make all the difference," she said. 
Kaiser is planning to bring all of her positive energy and enthusiasm to Emory University in the fall. Her college admissions process started much earlier than most, as she began talking to coaches the first day of summer after her sophomore year. Due to COVID-19, Kaiser was unable to visit all of the schools on her list, although she did get to meet some team members and coaches at various colleges. 
"Ultimately, Emory was where I felt most comfortable talking with the coach and team members, and I am very excited about my decision," Kaiser said. "The school has a great balance between its competitive swim program and high level academics. It is also located in the South, and I wanted to go to college where the weather is warmer. Finally, its location is ideal. Its proximity to Atlanta gives me access to the city without the bustle of living in the city on a day-to-day basis."
Kaiser looks forward to practicing and swimming in meets at Emory, while she is also very excited for the team bonding, including team dinners and blue vs. gold challenges! 
"I hope I have taught Alison and the team the value of hard work," Tappis said. "There is no magic formula for getting faster other than practicing hard and adopting healthy habits regarding diet and sleep."