Coco Kuchins Commits to United States Air Force Academy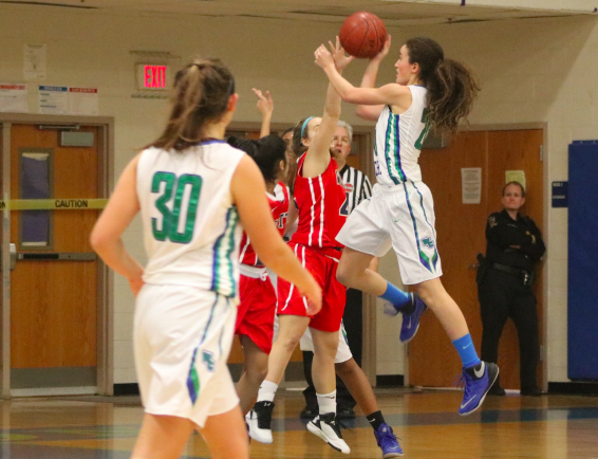 Senior Coco Kuchins verbally committed to play Division 1 basketball for the United States Air Force Academy August 20.
According to a Jan 21. Washington Post article, Kuchins was also scouted by other Division 1 schools such as University of Maryland Baltimore County and Loyola University Maryland.
"I was drawn to the Air Force Academy because of their academics, the mountain view location and that they want their cadets to become future leaders," Kuchins said.
According to Kuchins, playing at a D1 school has always been her goal. She began her path to that goal by starting her basketball career when she was six years old.
In addition to playing on CHS' Girls' Varsity team, Kuchins also plays for a competitive travel team, the Germantown Lady Panthers. She has been a Point Guard for the Girl's Varsity team for all four years of her high school career, and was also team captain for her junior season. She also plays for the Girl's Varsity Lacrosse team in the spring.
"[Kuchins] plays at such an intense level that it makes [the whole team] want to play better," Junior Forward Gabriella Baker said. "Even though her play on the court is at such a high level, she is great at mixing in fun as well."
According to AP Psychology Teacher and Girl's Varsity Basketball coach Katelyn Blanken, Kuchins averaged 13 points per game, five steals per game, four assists per game and 5 rebounds per game. Defensively, Kuchins anticipates each play and uses her quick speed to her advantage. Offensively, she handles the ball well and again uses her speed to run the offense.
"[Kuchins] is very selfless," Blanken said. "College coaches saw how she truly loves the game, and while she is very talented already, has room to and wants to improve."
According to Baker, Kuchins' leadership on the court is evident in both practices and games.
While Kuchins' athletic ability and leadership skills have both had a profound impact on the Girls' Varsity team, she credits her parents with having the most profound impact on her career.
"My parents have helped me get to where I am today," Kuchins said. "They have always supported me, driven me to every practice and game, and have cheered me on."