Class of 2014 holds mulch kickoff fundraiser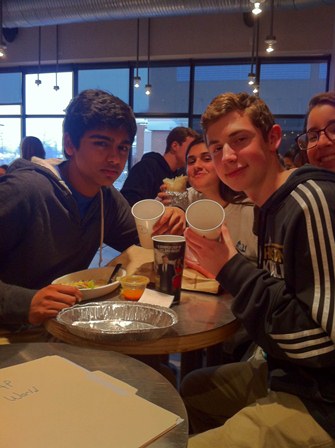 To kick off the annual mulch sale weekend, the class of 2014 had a fundraiser at the Chipotle in Georgetown square March 25.
The fundraiser's intention was to gain extra revenue for the class of 2014's year-end events, including Graduation, Prom, and the Senior banquet.
"We knew we would raise a lot of money by having it at Chipotle," senior class president Amy Dalrymple said. "Everybody loves Chipotle."
At the fundraiser, students and families ate burritos and had a fantastic time supporting the class of 2014.
"I had a blast tonight," senior Gloria Samen said. "I just love being able to hang out with my friends while helping our class."
Besides raising money to go towards class events, the fundraiser had the other intention of raising awareness for the annual mulch sale, which has been suitably nicknamed "Mulch Madness" to help get people excited for the mulch sale this weekend.
"The name is a play off of March Madness," Dalrymple said. "[senior class sponsor Shelley] Perrett thought it was a good way of showing how the mulch sale is crazy fun."
In order to build the excitement, class of 2014 and class of 2015 executive board members were given t-shirts for the mulch sale at the fundraiser.
"The idea for t-shirts is an innovation," senior class MCR representative Kiana Givpoor said. "We are beyond excited about the t-shirts and the mulch sale this year. It is about to get crazy."