BCS Championship Preview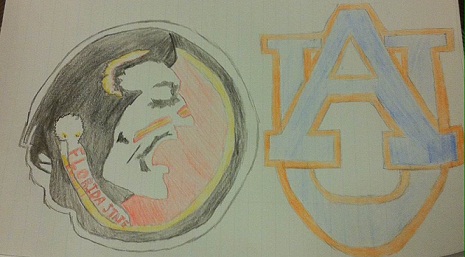 By Noah Salzberg, Public Relations and Social Media Manager
January 9, 2014
Tonight, the Florida State Seminoles will take on the Auburn Tigers in the 2014 VIZIO BCS National Championship Game. This marks the culmination of an era, as next year a four-team playoff will decide the best team in all of college football.
The two teams have taken entirely different paths to get to this championship game. Florida State dominated the field, winning 13 straight games to stay atop the BCS rankings. The Seminoles, led by Heisman-winner freshman quarterback Jameis Winston, have been outscoring opponents by 43 points on average, per ESPN.
"It is pretty amazing to see how quickly they became a dominant team in the BCS," junior Christina Poerstel said. "It is just truly unreal how much a freshman quarterback can do for a team."
However, controversy has loomed over the Seminoles' season, as Winston was almost excluded from the Heisman ceremony and remainder of the season due to a claim of sexual abuse. Charges were never officially filed, but the controversy could have potentially marred a productive season for the Seminoles.
"Winston was lucky to get off that easily and that charges weren't dropped," junior Drew Gerber said. "Without Jameis Winston, Florida State would not be a top-tier team."
While the Seminoles have been readily considered the best team in college football, Auburn gained its championship berth momentum through what many will consider to be one of the best college football games of all time: the 2013 Iron Bowl against the number-one ranked Alabama Crimson Tide. With a miraculous 100-yard return from a missed field goal, Chris Davis and the Tigers gained national recognition and a top-3 spot in the national rankings.
"I thought the ending was unexpected and crazy," Gerber said. "I have never seen a play like that before."
After defeating Missouri in the SEC championship game, the Tigers vaulted up the BCS ranking to the number two spot, making a case for a national title bid. The Tigers, dubbed the "team of destiny" by many newscasters and reporters, will go for their second BCS championship in the school's history, the first being with Cam Newton in 2011.
"I want Auburn to win because it would be a bit of an upset, and I respect them for beating Alabama," Gerber said.
This BCS championship will have a lasting impact on the scope of collegiate football. It will go down not only as the last national championship of the bowl era, but as a testament to the truth.