CHS Students prepare for No Shave November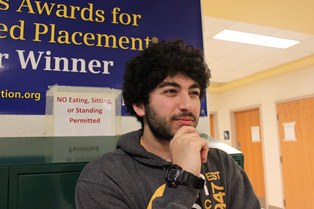 Men everywhere can put down their razors and rejoice because, for one month, it is socially acceptable to flaunt facial hair.
No Shave November is a nationally recognized event that celebrates masculinity. Its popularity has also expanded into the creation of Movember, a month-long event involving the growing of moustaches during the month of November to raise awareness of prostate cancer as well as other male cancers. But for most CHS students, No Shave November is simply a fun way to avoid shaving and show off a more rugged look.
"This is my second year participating in NSN," senior Robert McDermott said. "My goal is to have my facial hair actually resemble a beard."
Many set goals during No Shave November to achieve a full beard or to grow facial hair that resembles that of a celebrity or pro athlete.
"My goal is to have a full beard like Brian Wilson," senior Drew Legum said, referring to the Major League pitcher known for his excessive facial hair.
For some, laziness is a prime factor in determining whether or not to participate in No Shave November.
"I really love participating in NSN because it's an excuse not to shave," senior Arvin Massoudi said. "But I think only those gifted with the potential for a magnificent beard should participate."
Partaking in No Shave November for the full month is also a feat within itself, because many drop out due to irritation or negative feedback.
"My beard always gets itchy after about 5 days," Legum said. "The itch makes me want to shave, but I resist."
No Shave November also encourages fun rivalry among friends.
"I like participating in NSN because it's fun to see how long I can grow my beard in comparison with my friends," senior Ali Kazemipour said. "A little competition never hurt anyone."