Annual WCHS January dance is "GLOW" much fun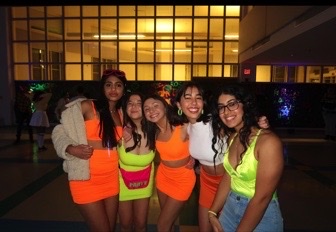 On typical Friday afternoons students can be seen rushing out of school, eager for the weekend to start. However on Jan. 21, students excitedly entered WCHS, on a Saturday night, not to learn but to instead attend a neon dance. 
WCHS's annual GLOW dance offered a respite from students' normal academic environment, as the cafeteria was covered with black paper, spray paint and a light-up photo booth for students to take pictures. The dance also allowed students to spend time with school friends and bond with their peers. As WCHS puts a lot of emphasis on prioritizing mental health, offering social opportunities such as GLOW shows that they are taking action to improve student well-being.
"We planned GLOW in order to offer students a social gathering that creates a sense of community while building up school spirit," Class of 2024 SGA VP Angelica Hu said. "It was a way to give students a fun way to spend time together and a way to boost the spirit of WCHS."
While attendees saw the dance as a place to have fun, the Class of 2024 SGA put in a lot of hard work to make the night a reality. From working with administrators to secure a date to hiring a DJ, organizing the event was not a small feat.
"It took us about a month and a half to plan GLOW," Hu said. "We had to hire the vendors and think about how to make the night the best it could be, in addition to advertising it to make sure that we would have a high turnout. The most difficult part of preparations was decorating the cafeteria with painted paper since it is such a large space."
The SGA's dedication to putting on GLOW not only gave students the dance itself to look forward to, but an occasion to celebrate. While the dance only lasted three hours, and most students only attended a portion of it, GLOW created the framework for a night full of fun with friends.
"For the weeks before the dance it was fun to plan out outfits with my friends, and in class you could see people shopping for their clothes too. It definitely gave something to look forward to," WCHS senior Rubani Singh said. "My friends and I all got together to get ready before the dance, and then after the dance a big group of us hung out, so it was definitely a full night."
Unlike the Homecoming dance where many students only make a quick pit stop at the actual dance on their night of festivities, GLOW is considered a dance to actually stay for. It is more casual and the hype music matches the vibe better.
"I thought that GLOW was a lot of fun," Singh said. "The cafeteria looked cool with all the graffiti, and it was fun to be able to party with all of my friends in one place. I also loved everyone's outfits and seeing them light up in the dark."

GLOW offered WCHS students a place to let loose and have fun, while also giving them a social opportunity to spend time with their peers, uniting the school. The dance was a success, not only for the Class of 2024 SGA, but for all the students who experienced it. 
"If GLOW is put on next year everyone should go," Hu said. "Not only to support the Class of 2025 but school events in general do not get the credit they deserve. They are a really fun way to create memories and have fun!"