TOTM: Shoshana Kohr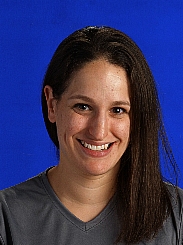 By Rachel Mattison, Assistant Advertisement and Subscription Manager
December 23, 2020
Cracking dad jokes from her home computer, WCHS teacher Shoshana Kohr has helped to fuel success for the numerous students she supports every day. Her hard-working, caring and thoughtful attitude allow her to connect with her students and help them achieve a high level of learning.
Kohr received her undergraduate degree from Emory University before going on to complete a Masters of Arts in Teaching at Columbia University. She then stayed in New York City and taught middle school social studies for six years before moving to teach in Alexandria, VA. From there, she arrived at WCHS last year to teach as a part of the Special Education department.
"In my role, I support students and teachers to make sure all types of learners can be successful," said Kohr. "I primarily [work] with English classes and I love that I can help students reach their full potential."
Kohr was inspired to become a teacher by her grandfather's story. He was a Holocaust survivor and after learning more she knew that she wanted to use her job to make a difference.
"I became a teacher to help inspire younger generations to be civically active and fight for what is right," Kohr said. "I wanted to use my power of education to equip students with the knowledge and confidence to change the world."
Although Kohr did not sign up to teach in a virtual environment, she is now embracing virtual learning and trying to make the best out of this difficult situation.
"Virtual teaching is challenging because you don't know whether the students are paying attention and whether they understand," Kohr said. "It is so easy to tune out or try and multitask during virtual learning, but then you end up missing out on important information. I am trying to find technologies and other ways of teaching that engage students so they are not tuning out, or at least help them know where we are when they tune back in!"
In addition to teaching, Ms. Kohr is also one of the sponsors for the Class of 2023 SGA. In this position, she helps SGA representatives with anything they may need. From inspiration during brainstorming, mediating any conflicts, helping execute events and more, Kohr supports the SGA wholeheartedly.
"I chose to become the 2023 sponsor last year because it was my first year at WCHS and it seemed like a great opportunity to meet more students and staff," Kohr said. "It was the perfect program for me to get involved with because I love working with students who want to be leaders in their communities in order to create positive change."
The representatives on the 2023 SGA are grateful for all of the time and work that she puts in for them to be successful. These members work hard in order to help their grades, but without a teacher to help them they would not be able to execute anything.
"I really appreciate how dedicated Ms. Kohr is to helping all of the students she works with succeed," WCHS sophomore Candela Lespada said. "She is always there to motivate me even when I don't know I need it and help me accomplish things on SGA."
Student leaders respond to Ms. Kohr's positive attitude, especially during the pandemic.
"Ms. Kohr has always encouraged all of us on SGA to collaborate with one another and share our ideas in order to create the best possible results for anything that we all do together," WCHS sophomore Caitlin Murphy said.
Every single teacher right now is working so hard to make the best situation possible for students in this virtual time. They all still work to make sure that students are attentive, happy and succeeding during this different environment. 
"My biggest recommendation for all of you is, if you feel comfortable, that you turn your cameras on sometimes," Kohr said. "With cameras on it is so much easier for teachers to gage their students and change the lesson. I never realized how much I depend on watching people's lips and facial expressions in order to know what people are saying and how they are feeling."