Let's talk about periods.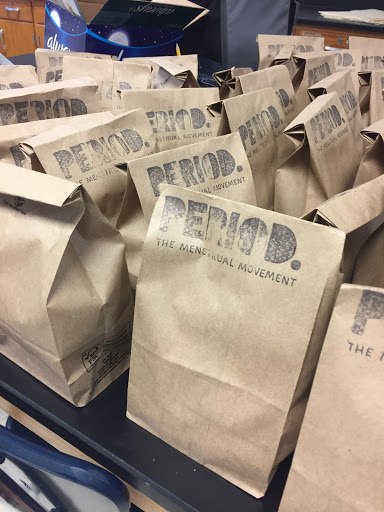 To think that all the WCHS Period Club does is talk about periods would be a mistake–and the club leadership will not let you forget it.
"Of course talking about periods is an important goal of ours, but we also focus on bringing awareness to period poverty and donating products," senior Maggie Zheng, Period Club Vice President said. "Our organization tries to reduce the stigma of periods. Half of our population has them, so it shouldn't be something controversial or embarrassing."
The club works to donate period products to women in need around the area. Period products are not cheap. According to a March 2017 USA Today article, the feminine hygiene market is estimated to grow to $40 billion by 2020. That puts the cost at anywhere between $150-300 per person. Starchenko and the club hope to make it easier for people in need to get them.
"The appeal is that it is for a good cause," sophomore Veronica Starchenko, Period Club social media coordinator said. "We help get period products to women who can't afford them in Potomac. We donate to homeless shelters. We raise money by also doing things like a packing party. We take the supplies and we package them so that we can donate."
Packing parties are among the events planned during the once-a-month meetings. Most of the activities include fundraising or packaging. They also educate people on what periods are and why hygiene products are a necessity, not a luxury.
"We're stocking bags of pads for homeless people who don't have them." Period Club member freshman Lidjia Stamenkovic said. "I think it's pretty cool because it is really expensive."
The club packs the period products in brown bags with the Period.com logo. The bags are filled with three pads, three tampons and three liners.
Products are donated through Zhang and senior President Victoria Park to the Stepping Stones Shelter. They purchased hygiene products from Costco in bulk using $5 dues from members and a bracelet fundraiser held in December.
"It is hard for women without access to quality period products to take care of themselves," Zheng said. "Until period products are more widely available to all women, our club and national organization have to donate products and lobby for better support as much as we can."
The club has a very home-like feel. There are around ten dedicated members of the club and a handful of officers. The club does not have only female members and encourages male students to attend meetings in order to learn and contribute.
"Yes we do that [talk about periods]," Starchenko said. "It's also important to do that because a lot of people don't have conversations about periods. There's also a lot of stigmas."
While the club focuses on donating period products to women in homeless shelters and other locations, they do not focus on supplying products to WCHS students. They also focus on ending the stigma around periods. However, free products could be coming to the school as soon as Oct. 2020.
HB0208 is currently in the Committee referral process in the Maryland General Assembly. The bill would be requiring "each county board of education to ensure that each public school provide, at no charge to students, menstrual hygiene products via dispensers in the restrooms at the school; requiring a public school to install menstrual hygiene product dispensers in at least two restrooms on or before Oct. 1, 2020."
There is support for this idea; both Starchenko and Stamenkovic thought it was necessary for all students to have the opportunity to have access to these products.
"I think it's a good idea," Stamenkovic said. "It's good for emergencies and there are people here who can not afford it or that many."
If the bill is passed, it will join similar laws passed in California, New York, Georgia, Illinois and Virginia.
"I feel happy knowing that I contributed something to people in need," Stamenkovic said. "A lot of women don't have the money to buy products."