CHS students represent school on television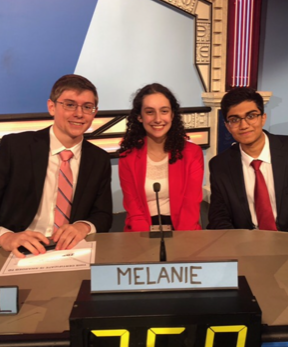 Have you ever thought, "I can do that," while watching Jeopardy? On Nov. 10, three WCHS students participated in the first round of the It's Academic quiz show for the 2018-2019 school year. Sponsored by Giant and Morgan State University, It's Academic is not just any quiz show; it's the longest-running television quiz show in the world.  
"While the trivia seems difficult, the content of It's Academic is supposed to reflect the high school curriculum," senior Michael Kalin said. "So, we practice by reviewing trivia questions and other content."
Round one of It's Academic was a success, as WCHS beat both Sherwood High School and Watkins Mill High School. WCHS must win the playoffs, the semifinals and the finals before advancing to the Superbowl, which is the final round of It's Academic.   
"As of right now, I don't know when we will be called back for the next round," senior Michael Kalin said. "The first round of It's Academic is scheduled to air on Feb. 16 on NBC4 at 10:30 a.m., unless there is a schedule change."
Although It's Academic is known for attracting smart and competitive students, host Hillary Howard manages to maintain a relaxed atmosphere throughout the taping. Audience members cannot shout out answers to the contestants, but they are encouraged to cheer for participants and show support throughout the show.  
For example, parents from Sherwood High School brought blue and white flags for the participants' younger siblings to wave in the audience. And, the audience wasn't limited to just family members, either. Multiple administrators from each school attended the competition. WCHS assistant principal Stephen Reck came out to show his support.   
At the end of the taping, each participant had the chance to introduce themselves and say what they were thankful for.
"I'm thankful for Giant, for sponsoring the show, and also for my family for supporting me," Melanie Heller, senior and WCHS It's Academic team captain, said.  
After the contestants spoke, the audience members left the stands in order to congratulate the participants in person.  
"I'm thankful for my friends who came out to support me," junior Manu Sundar said.