CHS Students Receive Medals for Russian Olympiada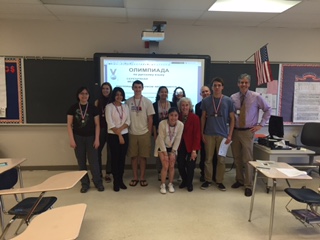 Bronze and silver medals were awarded to 10 CHS students, May 24 for their participation in the Maryland Olympiada of Spoken Russian competition at Goucher College on May 10.
The competition included four parts for the students to do: conversations about themselves, cultural knowledge, being able to recite a poem and being able to answer questions about a passage.
"My favorite part was going to Goucher College and competing against other people in a language that I am personally quite unaccustomed to," sophomore and bronze medalist winner Guy Kibler said.
The level one gold medalists were Natalie Judkins, Jahin Nawar, and Victoria Campbell. The level one silver medalists were Megan Roche, Kristina Atanasoff and Lauren Hassan. The level onw bronze medalists were Matthew "Guy" Kibler and Ayako Sekiya. Level 2 silver medalists were Evan Jordan (Heritage Speaker) and Yonaton Subin. An honorable mention went to Michael "Misha" Suttora.
One of the major factors that contributed to the success of the students was the instruction by their teacher Charles Feinson.
"It is not a fast paced class so we spend a lot of time on one concept which is helpful," junior and bronze medal winner Ayako Sekiya said.
In order to prepare for the Olympiada, Feinson taught the students by focusing on different topics and having the students practice a lot.
"We spent about a month working on different topics and doing warm up activities about culture," Feinson said. "We did lots of practice. The students also had to do a presentation about themselves."