Lee Wins Silver, Bronze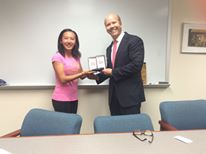 Sophomore Lucy Lee won the Congressional Bronze and Silver Medals for completing the Congressional Award program. These awards are part of the Congressional Awards, which are voluntary and non-competitive awards given to young Americans by Congress.
Lee qualified for the awards by completing the program required amount of hours in the areas of personal development, physical fitness, volunteer public service and exploration. Each award builds on the previous one by adding more hours.
"I'm really glad I got the chance to participate in these awards because they helped me explore different areas of interest," Lee said. "The four areas in this award are very goal-oriented, and require participants to set goals and work to reach them through documenting the hours we did."