Mr. Tappis retires, goes to work for Wordle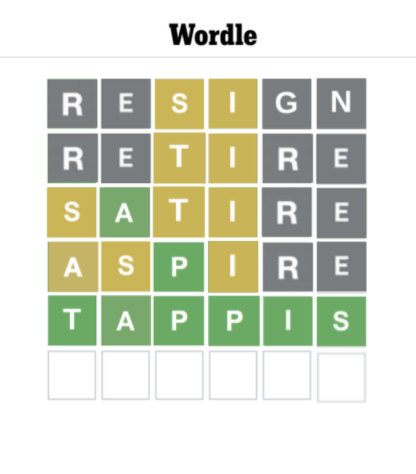 Beloved, revered and an inspiration to all, AP AB Calculus and Honors Precalculus teacher Chris Tappis is leaving WCHS after 11 years. Not only will students miss his many jokes, but they also will lack the knowledge to use an integral, graph a parabola and explore the meanings of SOH CAH TOA. 
However, this will not be the end of Tappis's career. Instead of students seeing him in Room 136, they will experience his presence every day when they do Wordle, which from now on will be known as TAPIS (misspelled for the purpose of the game).
"I've been hired by 'The New York Times' to come up with five-letter words for Wordle," Tappis said. "I am so excited to explore the dictionary and help 'The New York Times' in this very unique and special way."
While this might seem like it was all Tappis's idea, it was in fact a student who submitted his resume without his knowledge.
"A few days ago, one of my students got up and started screaming. The only thing I could think of was that she won the lottery," Tappis said. "Then, all of a sudden, she runs up to me all excited. I was shocked and surprised when I heard the news. And, I guess the rest is history."
Tappis never thought this could happen and didn't even know that 'The New York Times' was taking applications for the position. A fan of Wordle since the beginning, Tappis has gotten every word under six attempts, except one, which he often tries to forget. He is so excited to start this career with 'The New York Times,' even if it does mean he has to leave WCHS. 
"I have learned so much at WCHS—specifically that many students are more afraid of getting a B on a test than public speaking or anything else in their life," Tappis said. "I specifically want students to remember that your math grade does not define who you are as a person."
Many of Tappis's students, such as WCHS senior Bella Fenton, were shocked and surprised by the news. Fenton cannot imagine having another math teacher or learning from anyone besides Tappis. 
"I have learned so much from him, especially how much he hates grading and creating retakes," Fenton said. "Although I am sad about Mr. Tappis retiring, I know that this opportunity is too big for him to give it up. I am just so excited to see what he does with 'The New York Times.' This job truly does seem like the perfect fit for him."
Congratulations Mr. Tappis! WCHS staff, students and parents will miss you. Come back any time, and maybe one day make the Wordle DAWGS.
Actually, who said anything about DAWGS? Instead, the Wordle will be JOKES, cause the joke's on you.