A hard decision to make: passion or success?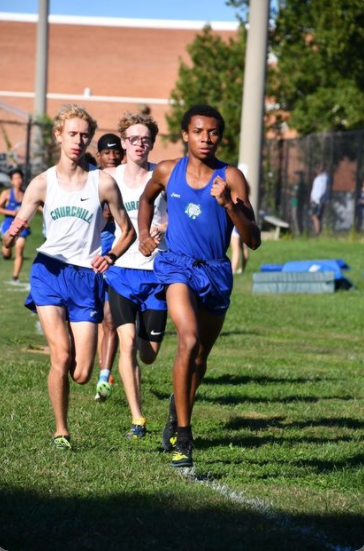 As graduating seniors are on the precipice of transitioning from high school to the next stage in their lives, many will be confronted with the sobering reality of how difficult it will be to take their passions in areas such as athletics, arts, and musical theater to a professional level.  Becoming a professional athlete or an iconic figure in the film industry requires herculean efforts, discipline and sheer luck, and the statistics suggest that the odds are often stacked against young adults. 
"There are a lot of fast runners in every division.  This doesn't deject my confidence because I have been working hard to reach this kind of level of competition while my goal is to win anything," WCHS cross country and track runner senior Sebastien Breton said. 
According to "NCAA Recruiting Facts", only 6% of high school students reach the NCAA and fewer than 2% of NCAA student athletes go on to become professionals. The prospects of becoming a famous household name in theater or film are just as daunting. There are several jobs one can hold while working in this field: actor, writer, director, and productions designer. 
"I would say it does stress me out sometimes knowing that it'll be difficult for me to find a job in this field but this is something I love," WCHS senior Roya Zafar said. As captain of the design and productions team of the theater, her job is to make the costumes for the actors starring in the theater's musicals. 
Students hoping to make it in these fields must balance dreaming big with being practical.. Upperclassmen with more experience in these types of fields often advise underclassmen that are just starting out to set realistic expectations. 
"I don't let any self-doubts get into my head, because if you let yourself have head problems, your spirit will be decreased," Breton said.
Although it's necessary to invest time and effort to succeed, many students are instructed to not put all of their eggs in one basket. Sacrificing all of one's energy to something not many make it in would be untenable; thus, it is crucial to have a backup plan. 
"My parents don't approve of this as of right now but I hope they'll come around in the future," Zafar said. 
Students can often try to fill up their resume by joining several clubs or taking difficult classes; as a result, they can become spread too thin to truly dedicate their effort to one passion. Yet this culture doesn't deter Zafar or Breton, who are both more than willing to focus as much as they can on their respective fields.
"I practice Monday through Sunday to develop more speed, strength, and endurance," Breton said.  "This work ethic really plugs into my performance of racing because what I put into it is what I get out of it, and what I get out of it is because of what I've put into it." 
For these students, there are several factors that they have to take into consideration as they chase their dreams. For example, the cost of living, how they are going to pay their bills and how to maintain their disciplined training schedules are all things they need to factor in. 
"I have not decided what I want to major in yet but I'll be able to make a decision before stepping onto the college campus," Breton said. 
These are the types of details that not just seniors, but underclassmen as well, need to think about if they wish to follow in their footsteps. The challenges that come with aiming to become a famous athlete or actor will remain. 
As Rudyard Kipling said in his poem "If", "If you can dream—and not make dreams your master/ If you can think—and not make thoughts your aim/ If you can meet with Triumph and Disaster/ And treat those two impostors just the same…/you'll be a Man, my son!"