Stay dry and stay alive in the new senior game of "assassin"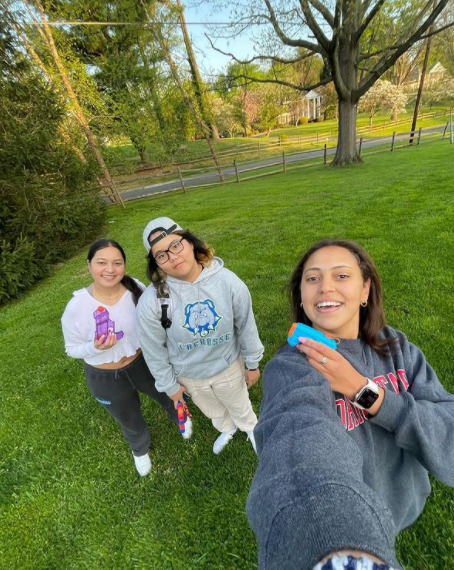 25 teams, 125 students and a lot of water guns! Senior Assassin is the new craze at school – a new game where friends turn into enemies, floaties are mandatory, and nobody can be trusted.
"Senior Assassin is so fun!" said David Verba, a participant in the game. "It's a really great idea and a fun way to celebrate senior year."
The game began with 25 teams with five people per team. Each team was secretly assigned another team to attack. Their task was to hit those people with a water gun, water balloons, etc, but not during school hours. If a participant gets hit, they're out, and this pattern continues until one team stands.
"One thing I like about the game is the requirement to have video or photo evidence of the person getting the opponent," said Ben Goldberg, another senior assassin player. "Although this makes the eliminations more difficult, it also makes it more fun and it seems more like an adventure."
As the game has progressed there have been more and more funny videos posted on the WCHS Senior Assassin account of people getting caught off guard, whether it be right outside their home, going to their car, or even just after their sports practice. Once the video is sent to the account, the kill is posted on Instagram and the elimination is confirmed.
"Another thing that is unique about the game is the secrecy of the opponents," said Verba. "While the team was told who they were going to attack, they were not told who was after them. This led to lots of surprises and unexpected encounters during the first few days of the game."
Students also enjoy the hilarity of the whole idea. People showing up to school with floaties and water guns is now the norm. Everyone sprinting to their cars after school is mandatory to avoid elimination, and slacking off after practice is frowned upon.
¨The anxiety and paranoia is crazy,¨ said Goldberg. ¨Everyone is stressed out about getting out and letting their team down.¨
While the actual prize is great ($625 split amongst the team), the real prize is the fame and legacy of winning the entire Senior Assassin game.
Students and staff agree that this game is a terrific, unique and fun way to wrap up your last year of high school.
"We hope that this brand new tradition continues for the seniors to come," said Verba. "It's a great way to celebrate and commemorate the senior class!"