Pop for a Cause: a healthy, delicious way to give back and make a difference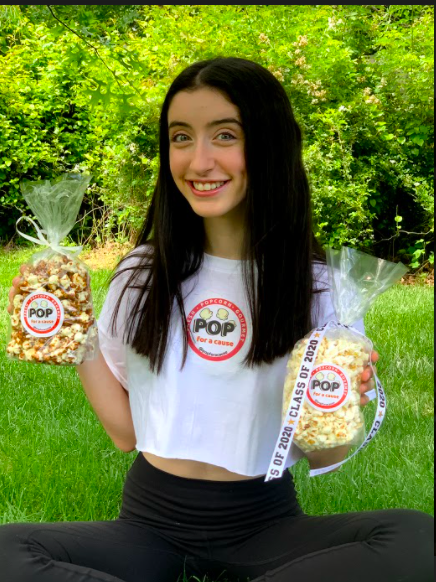 Drizzled in chocolate or caramel, sprinkled with crushed Oreos or plain, air-popped popcorn is one of the most versatile snacks. WCHS sophomore Amanda Kossoff, who started Pop for a Cause, uses that to her advantage while creating unique popcorn flavors and combinations. Pop for a Cause sells homemade air-popped popcorn dedicated to giving back to the community.
Pop for a Cause takes popcorn one step further with her gourmet popcorn and her own take on many classic and original flavors. To help organizations and nonprofits struggling during the pandemic, all the profits go to important causes such as the American Lung Association and 4-H. Kossoff founded Pop for a Cause during early quarantine last year after eating microwave popcorn during a family movie night in 2020.
"I stared at the popcorn for a few minutes; the snack looked so artificial and unnatural. That night, I began to research and discovered the links between microwavable popcorn and negative health effects," Kossoff said. "I learned about the artificial yellow coloring, the perfluorinated compounds, the Diacetyl infusions and popcorn lung, all that were connected to microwavable popcorn." 
Then, Pop for a Cause was born. Kossof started by creating and taste testing popcorn along with creating a company logo for the popcorn tins and bags. After trial and error, her flavors were complete; They include zebra, cookies and creme, cake batter, sea salt caramel, hot chocolate marshmallow, kettle fruity pebble and more. There are three sizes of popcorn; a bag, a one-gallon tin, and a two-gallon tin. The bags and tins are decorated depending on the theme you select. Themes range from birthdays to college acceptances to quarantine and more. The prices vary from $7 to $35 depending on size and popcorn flavor. 
"I like to use very unique and out-of-the-box popcorn flavors. I also make sure to hear from other people, whether that be friends, neighbors, past customers or anyone I can get a hold of, to find out what they think about the flavors and any new creative ideas they have, and I go from there," Kossoff said.
Along with their classic flavors, Pop for a Cause has special limited edition flavors for certain holiday seasons. Most recently for Valentine's Day and for most of February, the flavor red velvet was available. This flavor consisted of her normal popcorn drizzled with white chocolate with red velvet cake crumbled in it.
Much like companies have employees, Pop for a Cause has student ambassadors also known as POP-stars. These POP-stars help with large orders, spread the word on social media, and generate sales. 
"I love being an ambassador for Pop for a Cause. My favorite part is packaging orders with the other ambassadors," WCHS sophomore Candela Lespada, a POP-star, said. "What I love about Pop for a Cause is how 100% of the profits go to charity and the popcorn tastes amazing." 
Earlier this year, Pop for a Cause was featured on the local news. Kossoff was interviewed by Fox 5 News and her feature was released in January 2021. The news publicity led to an influx of popcorn orders and sales. 
"I was so amazed by how [the segment] turned out and was so content. Less than an hour later, I got a text that they were airing the Pop for a Cause story again,"  Kossoff said. "Turns out, the Pop for a Cause story aired over 11 times on the news."
Not only does buying from Pop for a Cause get you delicious and unique flavored homemade popcorn, but it also helps charities that mean a lot to Kossoff. All of the proceeds from popcorn sales go to the charity of the month that can be found on the Pop for a Cause website.
"Through numerous personal meetings with coordinators, founders and directors of amazing organizations I've been able to discover and learn the stories behind such amazing causes, and then determine if that is what I want to support through donating 100% of profits through popcorn sales," Kossoff said. 
For the months of February and March, all proceeds from Pop for a Cause are going to the National Girls Collaborative Project (NGCP), a project to inform and encourage girls to pursue careers in STEM. 
"Girls and boys don't significantly differ in their abilities in mathematics and science in K-12 education, yet women remain underrepresented in the science and engineering workforce," Kossoff said. "This is why I decided our cause for Feb. and March (2021) is the National Girls Collaborative Project."
Since the start of Pop for a Cause in May 2020, Amanda has donated roughly $8,000 to different charities. Pop for a Cause has worked with almost 20 different organizations, such as the American Lung Association, Teens with Heartsongs and So What Else. 
"What made me want to start Pop for a Cause, and continues to inspire me every day, are all of the organizations that are doing good and are operating around our country right now," Kossoff said. "These outstanding nonprofits and organizations that need help are what motivate me to continue popping popcorn and making a difference."
To buy popcorn from Pop for a Cause and support this month's cause, go to https://www.popforacause.org/.