Fast Fashion Leads to Environment Concerns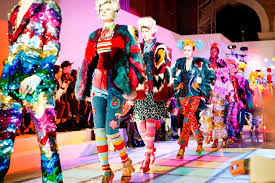 Need a cheap yet fashionable outfit fast? Never fear! Look no further than Forever 21; it has everything you could possibly hope for and more, as long as you do not mind contributing to water pollution and supporting the brand's violations of federal law.
Fast fashion, by definition, is a term used by fashion retailers for clothes that transition quickly from the runway to department stores at affordable prices for the average consumer. While this may keep consumers up to date on the latest trends, it is quickly expanding our carbon footprint and destroying our planet in more ways than one. Stores like Forever 21, H&M, GAP, Topshop, Zara and Fashion Nova all promote fast fashion.
"I shop at Forever 21 because it is inexpensive, convenient and relatively fashionable," sophomore Ruby Howard said.
According to an Aug. 2017 blog post on Good For You, environmental impacts of fast fashion include the use of toxic textile dyes and materials like polyester, increasing stress on biodiversity and contributing to a growing amount of textile waste.
While some may give their old clothes to a thrift store, most old, used clothing ends up being thrown out.
With fast fashion increasing the production and consumption of cheap but poor-quality clothes, landfills are stacking up with non-biodegradable clothing.
According to the Environmental Protection Agency (EPA), more than 84 percent of unwanted clothes in the U.S. went to either a landfill or an incinerator in 2012.
The environment is not the only thing impacted by fast fashion; animals as well as garment workers are influenced by the demand for cheap, stylish clothing. Workers making the clothing for fast fashion retailers are often put in dangerous working conditions with unreasonable hours and below-acceptable pay.
The treatment of workers can be seen through "The True Cost," a documentary made to reveal the lives of the people who make our clothes and the impact the fashion industry has on our planet.
According to The True Cost website, there are roughly 40 million garment workers in the world today lacking the rights and protections that most of their consumers have. Only five years ago, one of the many clothing factories in Bangladesh collapsed, in part due to the disregard of the safety for workers. The building violated many codes, including some floors being built illegally, that resulted in around 140 deaths.
Fast fashion stores are very popular for teens, with their wide variety of styles and constant updates to make sure buyers have access to the latest trends. However, there are new, more sustainable choices in reach.
Reformation, a women's clothing brand dedicated to reducing the fashion industry's carbon footprint, recently opened a storefront in Georgetown, D.C.
According to Reformation's website, all of the clothing is made from deadstock fabric, which is fabric from repurposed textile waste, vintage clothing and other sustainable materials. The website is complete with an explanation as to why and how Reformation maintains its sustainability, as well as a complete profile on the people who make the clothes and even the option for anyone to tour a factory, so consumers can see exactly where their clothes are coming from.
Reformation is one of the many stores becoming available for consumers who want to prevent all the waste and danger that fast fashion causes. Although these stores are somewhat less accessible and more expensive, the clothing is extremely high quality.
If the price of Reformation clothing is too high for students, there are many other ways to prevent fast fashion.
"I return everything I do not need or use, and I never throw garments away," Howard said. "I try to get the most wear out of them that I can."