Ski off to three local winter wonderlands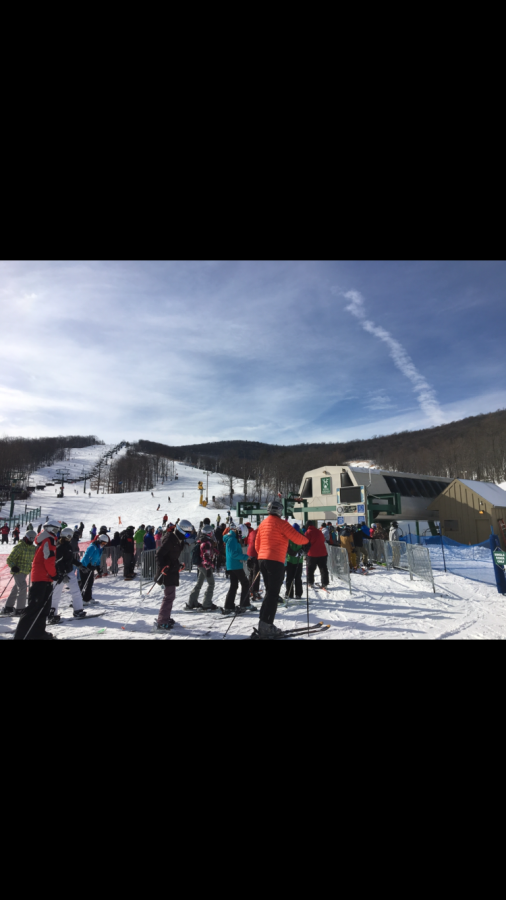 By Ethan C. Miller, Staff Writer
February 12, 2018
Winter is here, and unless you live in Westeros from "Game of Thrones," you're going to need something else to do in your free time other than fight White-Walkers.
Whitetail Resort, Liberty Mountain Resort and Roundtop Mountain Resort fill that void by providing several activities including skiing, snowboarding and snow tubing. Skiing locally is a great way to spend a day during the weekend, especially with the relatively short drive to each location.
"Whitetail is a good place to go for a day boarding trip," sophomore snowboarder Dylan Sotnick said.
Whitetail Resort, located in Mercersburg, Pa., features nine ski-lifts for skiers and snowboarders of all skill levels. From peak to summit, Whitetail has a 935 foot vertical drop from its 1,800 foot top elevation.
"I like Whitetail because they have a high speed lift, long runs and a great terrain park," senior Ben Stanish said.
Stanish, a Whitetail regular, spends his time at the mountain skiing down the slopes and doing tricks in the terrain park. In addition to skiing, Whitetail has a tubing hill, several restaurants and lodging. While the resort does have many positives, a big downside can be the large crowds that are commonly seen at bigger Mid-Atlantic ski mountains.
"Whitetail is just too small and crowded for me," Sotnick said.
Liberty Mountain Resort, which is located in Fairfield, Pa., has many qualities similar to Whitetail. Liberty is slightly smaller than Whitetail with eight ski lifts, but it has a terrain park and snow tubing similar to Whitetail. Despite their similarities, Liberty is missing one thing that is important enough to sway some people from coming: a high speed chairlift.
"I genuinely dislike Liberty," Stanish said. "Adding a high speed lift would make Liberty a lot better."
While slow chairlifts can be irritating, Liberty has many amenities that attract guests, including brand-new lodging and restaurants, along with a small outdoor ice skating rink.
Finally, Roundtop Mountain Resort is located in Dillsburg, Pa., about a two hour drive from CHS. The resort features nine lifts for skiing and also has a terrain park and a tubing hill. For CHS English teacher Il Kim, the simplicity of the resort is what draws him back time and time again.
"It's almost like a Ma-and-Pop-shop for skiers," Kim said. "They have a no-nonsense approach for skiing."
While Whitetail and Liberty have on-site lodging for guests, Roundtop does not. Unlike skiing in the Rocky Mountains and in the Northeast, the local ski mountains are small, sometimes crowded and have average to below average snow conditions. However, if you have a passion for skiing or snowboarding, any of the resorts can still satisfy your winter checklist.
"I like all things that glide literally and metaphorically for life," Kim said.