Not just "Despacito": Students often groove to Latin music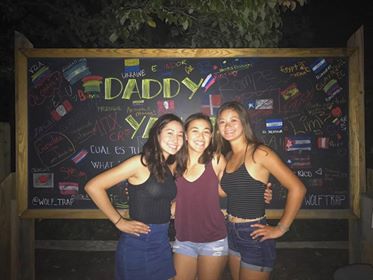 Does the word "despacito" sound familiar to you?
Over the summer, the smash hit "Despacito" by Luis Fonsi featuring Daddy Yankee took over the airwaves. Its catchy hook, infectious beat and Justin Bieber remix propelled it to the top of the Billboard charts for 16 consecutive weeks, inciting a new sense of popularity for Latin music in America.
"I love that people have begun to appreciate Latin music," senior Gaby Seligman said. "This proves that music breaks language and cultural barriers."
Latin music is comprised of many different sub-categories, including, but not limited to, Puerto Rican reggaeton, Colombian cumbia and even Latin trap, which combines American trap music with heavy reggaeton beats.
According to Billboard, streaming sites like Spotify and YouTube have enabled the growth of Spanish music.
"Back in the day, we had MTV where you occasionally saw these artists music videos, but now everyone is streaming them on YouTube," Spanish Five teacher Robert Roos said. "It's another way to get out the message."
As of Nov. 2, "Mi Gente" by J. Balvin and Willy William feat. Beyonce sits in sixth place on the Billboard Top 100 chart, "Despacito" at 15th, "Escapate Conmigo" by Wisin at 72nd and "Mayores" by Becky G at 97th.
"I think the fact that you can dance to [Latin music] makes it popular," Roos said. "This music gets you to move."
While Latin music appears to have just broken into the American scene, it's been popular in its countries of origin for years.
According to an article by The National from July 2017, the current popularity of genres like reggaeton are more of a resurgence than a passing fad in the US.
"I've been listening to Spanish music since I was nine," junior Samara Kass said. "I like that Latin music is upbeat and fun."
Songs like "Mi Gente" and "Despacito" are sung in Spanglish, a blend between English and Spanish that allow listeners who speak either language to appreciate the tunes. Additionally, the celebrity remixes by Beyonce and Justin Bieber have also propelled the songs up the U.S. charts and raised their popularity at CHS as well.
"My favorite artist is probably J. Balvin or Daddy Yankee," senior Mary Sailer said. "I [actually] went to a Daddy Yankee concert in October."
At CHS, Roos has incorporated Latin music in the curriculum with a weekly segment called Música Miércoles (Music Wednesdays).
"Música Miércoles is a way to get across to the kids that Spanish is more than learning grammar and vocab," Roos said. "I think it is important to expose kids to all genres of music because everyone has different music tastes."
Roos plays music from multiple Spanish-speaking countries and different genres. He recently played both the song and video for "Guerra" by Residente. "Guerra" means war, and the video takes place in a Syrian refugee camp.
"After my classes watched the video, there was a sense of unease," Roos said. "It just smacks you in the face. So I think [this type of] music is important because people are becoming more politically aware of issues involving race, violence and social injustices that some of these songs bring up."