Junior Pursues Passion of Food and Writing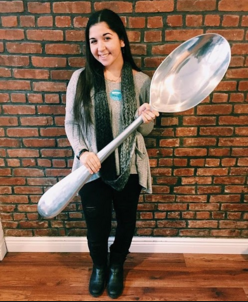 Pasta and punctuation. Tuna and Times New Roman. Seasonings, sauces and sentences. What do these things have in common? Food and writing, two passions of CHS junior Sydney Brown, both of which she has managed to successfully mix into her articles for Spoon University's high school team.
Spoon University is an online food publication that posts a multitude of recipes, restaurant reviews, health articles and other food-centered information. The website includes cooking videos, ways to eat healthy, tips and tricks for navigating college dining halls and provides specialized recipes for a range of meal times and occasions.
"Sydney's ambition, drive and dedication to what she loves have propelled her to be successful so far," Sydney's mother, Robin Brown said. "She took the initiative to apply and was quickly accepted to the High School Spoon University team [this past August]."
As a part of Spoon University, Brown writes two to three articles a month on various food-related topics. Some of her past articles include "Winter-Approved Granolas to Enjoy This Holiday Season," "The 5 Most Influential Food Writers in the World," and how "Being a Food Writer Is More Than Just Writing About Food."
"I started to become interested in food around the age of 5," Brown said. "In the summers, my siblings went to camp and I wasn't old enough yet, so I stayed home and cooked with my parents."  
Brown has never taken any professional cooking classes, but learned through observation and practice with her father.
"[Sydney's father] has fostered her passion for cooking by spending many weekends cooking with her for family meals and teaching her much of what she knows," Robin Brown said.
Brown has been inspired by her father because despite the fact that he never went to culinary school he has a natural talent for cooking.
"My dad doesn't restrict me to anything when we're cooking, which allows me to try a lot of new recipes and perfect a lot of cooking skills," Brown said.
For Brown's 15th birthday, her parents arranged for her to work in the kitchen as a master chef for the day at Nora's, a restaurant in D.C.
"I helped clean vegetables, prepare pastries and watched the chefs work all day in the kitchen," Brown said. "The best part of it all was when they made lunch for me. It was definitely a birthday to remember."
For the past two years, she has vigorously watched the Food Network, read various recipes, and kept a cooking journal and recipe collection to expand her skillset.
According to Brown, her favorite dish to make is roasted chicken and vegetables, despite its long and labor intensive preparation. Brown's family especially loves her tuna tartare, shrimp summer rolls, sauces, glazes and salad dressings.
Brown has also found inspiration in Ina Garten, a celebrity chef, because she cooks to make other people happy.
"The most rewarding part of cooking is [making others happy]," Brown said. "It's amazing to see people come together for a meal or some quality time and be so genuinely happy after a strenuous day."
Brown both enjoys the stress relief that comes with cooking and the joy others have from eating her food.
"I think it's really enjoyable to wake up on a Sunday morning and cook all day long," Brown said. "It's really cool while cooking to see something change from absolutely nothing at all to something utterly incredible."
A common misconception about students who are a part of Spoon University is that they want to be chefs when they grow up. Though Brown loves to cook, she wants to pursue a career in writing.
"I don't like when people assume I want to be a chef when I grow up, because I'm not that fond of the restaurant life," Brown said. "I love restaurants, but I don't think I'd want to work in one."
For now, Brown is enjoying her time writing for Spoon and gaining future career experience from it.
"Writing for Spoon is fun and I tend to use it as an outlet for my creativity," Brown said. "In school we sit still most of the day, and only really pay attention to the subjects provided to us, but Spoon lets me write about one of my favorite things: food culture."
This past winter break, she visited the Spoon headquarters in New York City's West Village for a holiday cookie swap.
"Food writing is cool because most of it takes place in big cities, and all of the offices are really lively," Brown said.
In the future, Brown hopes to write for a food magazine and is also considering traveling abroad to spread information about food and nutrition.
"I would love to travel to countries that have extreme hunger issues and are maybe more uneducated about food, and teach them about properly utilizing resources," Brown said. "Hunger is a huge issue in the world, so I feel that it would be really awesome if I could help conquer it."
Brown's success so far stems from her passion for her craft and the support and encouragement of her family.
"I can't wait to see Sydney accomplish all of her dreams," Robin Brown said. "I'd love to see her on staff at Food & Wine magazine, Bon Appetit or working at Martha Stewart Living."