Interfaith Families Celebrate Holidays Uniquely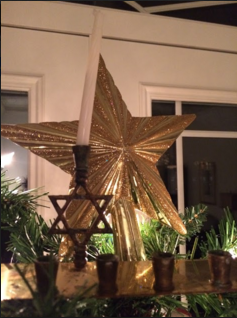 Christmas carols and playing dreidel. Lighting the tree and lighting the menorah. Hanging up ornaments and blowing up a life sized menorah. For interfaith senior Victoria Hahn, this is what her Winter Break looks like.
Currently, there are an estimated 1 million interfaith families in America who celebrate both Christmas and Hannukah, including members of the Christian and Jewish faiths. Being a part of two religions, interfaith CHS students have many unique family and traditional practices to celebrate the overlapping holidays during winter break.
"For Hanukkah, my family usually celebrates the first night by lighting the menorah, saying the prayers and going to synagogue," senior Victoria Hahn said. "For Christmas we go to church and celebrate as a family, but I'm not sure what is going to happen this year seeing as both holidays are on the same day. We might give each holiday their own part of the day."
This year the first day of Hanukkah falls on Christmas day, lasting throughout all of winter break, the final day being January first.
"Everyone gets presents in 2016 but we will be the first ones to get them in 2017," interfaith junior Bryn Arnold said.
Interfaith individuals feel that growing up with both religions is an enriching experience that affects them spiritually and culturally.
"Being interfaith has helped me understand both perspectives of being Jewish and Christian," junior Ryan Schaumberg said. "I love it and it [gives me] an opportunity to choose my religion when I'm older."
According to Schaumberg, she was able to learn about both religions through the Interfaith Families Project (IFFP) in D.C., which is like Hebrew school and Bible study combined.
Founded in 1995, the IFFP aims to celebrate and explore both religious traditions equally and share them with spouses, partners and children. This D.C. based project offers weekly programs on Sunday for youth and an adult group discussion.
However, children of Jewish-Christian interfaith families can sometimes feel uncomfortable because they do not conform to one religion.
"I had a Bat Mitzvah, so that gave me a stronger connection to Judaism, but overall I don't feel that I lean towards either religion," junior Emily Stein said. "When I was younger, I felt that I had to conform in part to Judaism, but that has gone away as I have gotten older."
According to Stein, being interfaith has allowed her to have freedom in discovering what she sees as her religious identity and not having to merely go along with whatever her parents grew up with. She believes religion should a personal choice, since it is about personal values and morals, and as a result, wants to let her children find their own spiritual path.
Many people believe that raising children as interfaith allows them to have a deeper understanding of other cultures and to be more tolerant of them.
According to an article from Pew Research Center, 39% of Americans marry someone who is not of their religion.
According to CHS secretary Patrice Thomas, raising her children as interfaith has given them a richer spiritual background and a broader cultural understanding of different religions and people, making them less inclined to be dogmatic.
"Too many times we see the differences of the religions and children [of interfaith marriages] are not raised as anything at all," Thomas said. "There is much more overlap than people realize."
Thomas founded a Jewish-Catholic group similar to the IFFP. It hosts over 500 families in Rockville and has religious school for the parents and children every two weeks. To ensure equal representation, the school is taught by one Christian and one Jewish person in each class.
"In interfaith groups, parents are encouraged to raise children in both religions, giving them the opportunity to choose as they get older," Thomas said. "One of the best things about being interfaith is that your family life is [culturally] richer."
Overall, being interfaith creates strong family bonds and allows for more religious experimentation and background.
"I think it is really cool that my parents decided to keep practicing both of their religions, because it teaches [my siblings and I] so much and has brought us closer to our families," Hahn said. "I don't know what it would have been like if we had been only Jewish or only Catholic because then we would not have been able to celebrate with our relatives. When I grow up I am definitely going to try and keep practicing both religions the way I do now."