Student Volunteers Impact Election Without Voting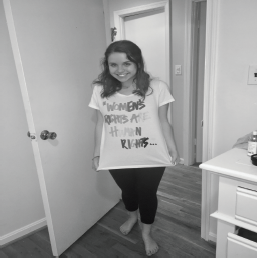 The presidential election between Republican nominee Donald Trump and Democratic nominee Hillary Clinton is all that anyone has been focused on for the past year and a half–and CHS students are no exception.
With the election coming up on Nov. 8, there has been an increase in political interest among high school students. CHS students have been participating and playing active roles in this election.
"I helped organize a rally to raise awareness of [Clinton's] policies," senior Diana Fischer said. "I am also going to organize voting at Our Lady of Mercy location on the day of the election."
For Fischer, being politically involved is not even about the candidate she is supporting; it is about getting the opportunity to be a part of something big.
According to Fischer, she was given the chance to work for a political campaign and she took it, even though she does not personally support Clinton. Despite her age, Fischer still feels that she is making a big difference.
Junior Omisa Jinsi agrees that millennials should not only volunteer but also vote in order to have an impact on the election.
According to Jinsi, she has always been a big fan of Hillary Clinton due to her ability to break barriers. Jinsi wanted to be involved with the Clinton campaign because she feels that Clinton's capability and intelligence have been overshadowed by petty, sometimes sexist, attacks.
"There are always reasonable backstories to her 'scandals' that make up for her actions, but the media and public continue to disregard them and instead pound down on her even harder," Jinsi said. "Meanwhile, Trump's scandals pile up with hardly any notice. I think this trend is heavily due to the sexism that is still prominent in our society."
While students like Fischer and Jinsi have volunteered for political campaigns this fall, other students have stayed out of the political fray.
According to a survey of 50 CHS students, while 45 percent total were interested in politics, 51 percent total did not have an interest in working on a political campaign.
Whether that lack of interest stems from not liking either candidate or not knowing how to get involved, many believe it is important that young people to become politically active.
According to Civicyouth.org, only 19.9 percent of 18 to 29-years-olds casted ballots in the 2014 midterm elections. That was the lowest youth turnout rate ever recorded in a federal election.
Voting is not the only way students can have an impact on the election. Volunteering, as Jinsi and Fischer both have done, is a great way for students who are not of voting age to get involved.
"Volunteering is always good," AP NSL teacher Bryan Clark said. "It makes you feel better about yourself but more importantly it benefits a cause. Join an interest group. Even though [some] students aren't eligible to vote yet, they can still be politically active."
According to Jinsi, those who can vote should do so. But they should also be educated on who they are voting for, and how their candidate aligns with their views.
"Be an educated voter," Jinsi said. "Millennials have the opportunity to change history with this election. Politicians spend millions of dollars to get young people to come to the polls because they know how crucial the youth vote is."