Students Seek A Spook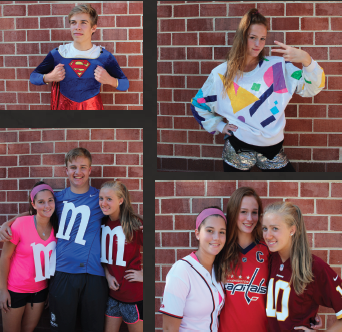 Halloween creeps up once again and what else is there to do besides trick-or-treating? This year, the answer is so… much… more.
As CHS students have grown older and relinquished their childhood years from the early 2000s, Halloween has turned into a marathon of scary movies, partying instead of trick-or-treating, and dressing up in crazy costumes.
"I love Halloween so much," freshman Emma Chen said. "When I was a kid, I would stay up as late as I could with my siblings to go trick or treating, but now, I hang out with my friends either going to a party or trick or treating just a little."
One of the first things people associate with the word "Halloween" is the scare that comes along with it. There are a multitude of activities that bring about that feeling and infuse the holiday with thrill as well as fright and one way is by watching and re-watching horror films.
According to a FilmMaker IQ article about scary movies, the reasons behind the fascination with horror films are the tension and relevance, yet fantasy factor they provide. The tension viewers feel is created through the mystery, terror and shock in the movies, while the relevance, or how viewers feel like the movie relates to their life, is created by the societal issues or universal fears portrayed in films. The last reason, fantasy factor, appeals to viewers because they know what they're watching is fabricated to some degree. There are two sides of the horror movie viewer spectrum: those who cannot get enough of the movies versus those who cannot get away fast enough.
"I like scary movies because I love the feeling of getting scared, especially with my friends because we all laugh at each other's reactions," sophomore Ryann Storch said. "I watch scary movies with my friends but not my family. I don't know how came to like scary movies when no one in my family likes them, but I feel like it makes me unique in a way."
The idea of having a "Movie on the Football Field Night" filled with scary movies for Halloween has been tossed around SGA with the hopes of making it a reality by next year. "Students benefit from being able to relax and hang out in a non-academic environment," English teacher and SGA advisor Shelley Perrett said. "Unfortunately, it takes time to plan and get rights to the movie, so we probably won't be able to do it this year. "
If scary movies do not quite scream "Halloween," then haunted forests are always an option. Haunted forests have become a popular trend and an easy way to get a scare. Markoff's Haunted Forest, famous for its lifelike feel due to the realistic portray of horror characters by actors and vividly gruesome horror simulations, is an iconic Maryland attraction that is only open during fall.
"It's an exciting way to be scared and have fun with your friends at the same time," freshman Katie Stanish said. "[Markoff's] is very well done and worth the price and wait. They do a good job of making everything realistic looking."
The appeal of dressing up on Halloween has not diminished, even for high schoolers. Dressing up in costumes still has its perks, despite the stress that comes with finding one. It allows people to be someone or something completely different from who they actually are.
According to freshman Grace Whitman, finding the right costume with friends takes up so much time because it is hard for everyone to agree.
Even if it's hard for a department t o agree on a certain costume or just to come up with an idea, teachers also enjoy the fun of dressing up.
According to Perrett, it was fun to plan Halloween costume themes with friends and fellow staff members, with costumes ranging from colored M&M's one year to playing cards another. She and ninth and tenth grade English teacher Christin Nixon are hoping to get the English department to dress up this year.
Some things may not change as you grow up, like wearing costumes, but where you wear those costumes may change. From elementary school to middle school, almost everyone goes trick-or-treating. In high school, however, many kids stop trick-or-treating, opting for a different adventure where costume parties becoming the new-doorbell ringing.
"I think high schoolers have lost interest in trick or treating, probably because candy isn't as important to them," said junior Alexis Veizis.
This year Oct. 31 is a Monday, also know as the dreaded first day of the school week. Because Halloween is on a Monday, it poses problems for students who want to stay up late and celebrate.
"I hate the fact that Halloween is on a Monday," Chen said. "It doesn't let us stay up late or do things close to as fun as they could have been on a weekend."
So whether your Halloween consists of binge-watching scary movies, getting lost in a haunted forest or going to a costume party, then you're in for a treat. Literally.