Senior Proves DNA Protocol Incorrect at NIH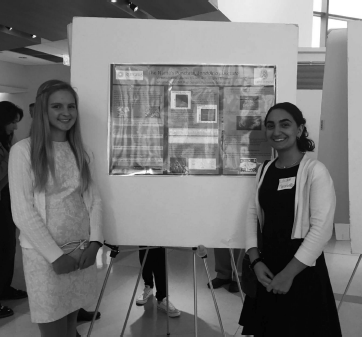 Recently, senior Laudan Nikoobakht proved that data from a theory dealing with DNA and their binding affinities with topoisomerase IV, was incorrect.
According to a 2014 Nucleic Acids Research paper, graduate student Tamara R. Litwin proved that DNA does not have different binding affinities for different types of topoisomerase. Topoisomerase IV is an enzyme that alters the supercoiled form of a DNA molecule. In the paper, Litwin provided a graph of her data from her experiments. When Nikoobakht re-performed these experiments, their graphs looked nothing alike.
"I was given a protocol on how DNA winds and unwinds and the role that topoisomerase IV plays in it," Nikoobakht said. "The protocol was written by a graduate student who had done the same set of experiments. However, I performed the same experiments over and over and no matter what I did, the results just would not match hers. The graphs from the data I would get were so lopsided and crooked unlike Litwin's. That's what helped us realize it's basically impossible getting that result with the protocol the graduate student wrote, concluding that DNA does have different binding affinities for different topoisomerases."
Over the summer, Nikoobakht spent seven weeks gathering information on the same topic as Litwin by performing many experiments and getting help from her supervisor.
"I realized around 15th run of the experiment that if I am doing the exact same things that the person before me did, the problem isn't with me but with the protocol," Nikoobakht said. "My supervisor and I realized that at about the exact same time."
Though Nikoobakht and her supervisor were pleased by their new discovery, they still had plenty more to figure out.
"We also realized that now we have to come up with an explanation of why the previous experiments of the graduate student didn't work," Nikoobakht said. "What we believe is that the protocols that Litwin wrote are not the same things she did to get those results."
Nikoobakht didn't anticipate the summer as it came to her. Once her ex-
periment was verified, she realized she had much more work to do.
"The plan in the beginning of the summer was to produce results that could be used to publish in a paper," Nikoobakht said. "However, now that the data is disproving the original paper, my group is planning to re-publish another paper with updated results."
Even Nikoobakht's teachers were thrilled when they found out about Nikoobakht's recent accomplishment. Her science teacher, Virginia Brown, was overjoyed and amazed by what Nikoobakht had discovered .
"She's fabulous," Brown said. "Not only is she intelligent, but she's always helping the other kids in the class as well. She's dedicated, conscientious and I would have never thought she'd accomplish something so big at such a young age."
She has also been getting large amounts of support from her friends and family who are congratulating her on her recent discovery. This experiment has added on to her continuous love for science and research. She hopes to work in a field of science in the future to help research new ideas.
"When I told some of my teachers and friends, they were so ecstatic and proud," Nikoobakht said. "It truly still is an amazing feeling. I love the field of science. Being a summer student at NIH gave me a whole new view of what my life could be like in research."