Becca's Closet PROMises A Memorable Night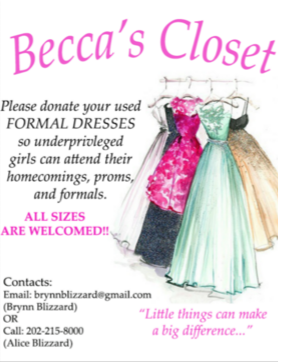 Hang on for a minute...we're trying to find some more stories you might like.
It's finally the end of the year—the seniors are nearly gone by the way of senioritis and are gearing up to leave CHS for good, all symbolized by the ultimate high school cliché of all high school clichés: prom.
May 20 marks senior prom, which also means the end of high school for seniors. It's an event for which girls often spend an enormous amount of time preparing; they need the perfect shoes, perfect makeup, perfect hair, and most importantly: the perfect dress.
"It's definitely important to find the perfect dress and one that you love," senior Danielle Marks said. "The first thing I think of when I think of prom is the long dress you get to wear.
The long gowns that most girls purchase and wear can be expensive. Dresses from popular designers and brands such as Jovani and Sherri Hill can cost between $50 to $500, with the most popular dresses lying somewhere in the middle.
Not everyone can afford such expensive dresses, and the pressure and cost of doing so may prevent students from attending prom. Many girls purchase the "perfect" dress, wear it once for the occasion, then put it in their closet where it won't be looked at until 10 years from now to reminisce over old times. Instead of letting the dress collect dust, an alternative is to donate used dresses to a charity that collects and passes them on to high schoolers who cannot afford one.
Becca's Closet is a nonprofit organization that is dedicated to donating new and gently used formal dresses to high school girls who cannot afford one. They have chapters, which are school clubs that collect dresses from drop boxes at different locations in the area, all across the U.S. The closest chapter to CHS is one at Walter Johnson High School. The chapters hold donation drives to collect dresses.
"A dress is an aspect of prom or homecoming that should not be ignored," said Walter Johnson junior Brynn Blizzard, president of the Maryland chapter of Becca's Closet. "Our goal is to help those girls feel comfortable and happy with the dress they have on."
The Walter Johnson chapter has several drop-off locations in the area including My Best Friend's Closet, On Cloud 9, Zohra Hair Salon, Fashion Craft Cleaners, Walter Johnson High School, Crest Cleaners and Starbucks on Darnestown Road in Gaithersburg.
Going to high school events is an opportunity that many people lack the resources and money to do, and simply donating one's dress provides other girls such opportunities.
"I would definitely consider donating my dress afterwards," Marks said. "Otherwise it could just be sitting in the closet."
The chapters across the country collect and distribute dresses locally. Each one depends on individual donations whether in the form of dresses or even money.
"The organization helps those who do not have much control over their income," Blizzard said. "This allows the girl to enjoy her prom night as every girl should."
Movies and pop culture have almost romanticized the idea of prom being the "perfect" night, with magazines such as Seventeen focusing especially on the quest for the "perfect" dress. While it is not completely crucial to have the most amazing dress in order to have an amazing night, it has become a component that many girls look forward to as it has embedded itself into the overall experience."Having the memory of going to prom is more important than the dress," Marks said. "I think the dress does have some sentimental value and if I did still have it when I was older it would be fun to see it and think of the night, but I'll always remember the night with pictures and by reminiscing with my friends."
There are other objects that can replace the dress as a souvenir that can carry more sentimental and nostalgic value such as pictures, which not only capture the dress itself but the exact moment in which it was happening. The dress itself can remind one of that night, but it does not distinctly show a girl the way she looked in it or who she was with, nor does it show her the fun she had. The only detail it distinctly illustrates from prom is that she wore that dress.
"The memory of prom will always be better than keeping the dress," senior Nicole Menkart said. "Of course the dress can serve as a memento but so can other things such as the prom ticket or pictures from the night."
The dress is embedded into the experience, though it does not define the experience nor does it solely symbolize the memory. To provide someone a dress who otherwise could not afford one provides them the opportunity of the experience.
"I know what it feels like to dress up for a night," Blizzard said. "It's beyond amazing to see how happy the girls get when they try on their dress."