Guide to Being a Second Semester Senior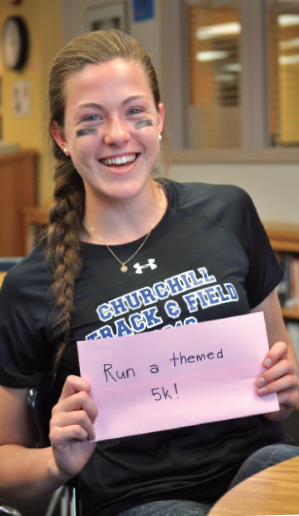 To all of you second semester seniors: it's been a long journey, and with the finish line in sight, it's easy to start wishing away the final days. However, as much as we may deny it, we're going to miss high school once it's gone, so we might as well make the most of what's left of the school year. Here are some tips for maximizing your last days as a high schooler:
Appreciate friends, family and familiarity:
Make an extra effort to let your friends and family know how much you appreciate and love them. After all, it is the last year you'll be living at home, the last year you'll be able to come home to siblings and pets every day, and the last year to have all of your childhood buddies nearby and ready to hang out with.
Say hi to your friends in the hallway and make conversation with that guy or girl who seems interesting but you never made an effort to meet. Resolve petty conflicts and drama with friends and reminisce about all the good times you've had together, because even after making a whole set of new friends in college, you're going to miss your old ones.
Spend time with your teachers (and thank them!):
No matter how much you may have thought your teachers were out to get you with the heavy workload, they have always had great intentions and have genuinely cared about your well-being and success (and will continue to). Take some time to thank your past teachers for expanding your mind, pushing you to become a better student and helping you grow.
This includes elementary and middle school teachers too. They love to see how much you've grown from your awkward stage, and don't forget, they've undoubtedly helped shape who you are today in some way, no matter how small.
Revisit your favorite hometown spots before you leave:
Did you grow up always going to the C&O Canal? Or maybe Sprinkles, the Rio Washingtonian Center, Silver Diner, the Air and Space Museum, Hadley's Park, the CHS football stadium, or anywhere else under the DMV sun? Take a day with your friends to go back and remember all the great memories you've made there. (And take lots of photos–you'll appreciate them later).
Don't miss out on hometown restaurants:
Washington D.C. and Potomac can be a foodie's paradise if you decide to make it one. Venture out to Buredo for sushi burritos and Daikaya or Momofuku for great ramen. CRAVE has great half-priced sushi on Tuesday evenings. Check out Paul or Le Pain Quotidien for a lighter French-style brunch, and STK and Chima for a nice steak dinner. Also worth adding to the list: Pizza CS, Rolls 'n Rice, Kung Fu Tea, Z Burger, Spices, District Doughnut, Shake Shack, Ben's Chili Bowl, La Limena, Kramerbooks & Afterwords Cafe, Teaism, Kadhai and ShopHouse while you're at it. You might as well start the broke college student life early (and the freshman 15).  
Philly cheesesteak challenge:
Food…and a challenge? Who wouldn't be up for it? The Philly cheesesteak challenge entails leaving school at the beginning of the day, driving to Philadelphia to have a cheesesteak lunch (and snag a picture, of course), and making it back to school in time for the last bell.
Get pumped for college:
Once you've decided where you're off to next fall, stock up on college gear! Let it be known that you're proud of all that you've done and excited to start the next chapter of your life. A little school spirit never hurts.
While you're repping the college gear all the time, don't forget about your CHS spirit. After senior breakfast and senior banquet, come out to prom May 20 to celebrate the past four years with the Class of 2016 for the final time before graduation.
College visits, the right way:
Remember those college visits you did during junior year? The information sessions on "holistic review," SAT scores, and student to faculty ratios that conclude with guided tours? Yeah…not this time. Take some senior year weekends to visit your college friends and get a taste of real college life – something an informational session can't provide.
Convert your locker into a pantry:
Hundreds of blue and green lockers line the halls. Why don't CHS kids ever use them? The world may never know. After all, they're so spacious and convenient, perfect for storing snacks for when you get hungry during Chemistry class. There's no need to stop by California Tortilla for lunch anymore. All you need is a quick turn of the lock, and available to you will be a wide assortment of snacks. You will thank your past self later. Bonus: your friends will love you. Suggested non-perishable snack foods include: granola, cereal, protein bars, trail mix, potato chips, chocolate. If only lockers were refrigerated…
Step out of your comfort zone and check more items off your bucket list:
Whether it be skydiving, cliff diving, attending a music festival or camping out all night to stargaze, now is a great time to try those things that you've always wanted to do but never had the time to. Take a class in bass guitar, dance, pilates, cooking, photography, or anything else you think you'd be passionate about. Visit museums, go out and strike up conversations with strangers, climb a mountain or apply for an internship in a field you wouldn't normally think of pursuing. Maybe you'll learn a thing or two about yourself and what you like (and dislike). College is all about getting to know yourself, so why not get a head start?
Don't touch your backpack for one day (at least). Just relax, you deserve it:
We all know that familiar second-semester senior stigma. We're lazy, we skip, we're "so done" with it all. A little bit of senioritis is completely justified. Just remember all of the late nights and the college essay drafts you wrote and rewrote, and for that, give yourself a pat on the back. All those standardized tests, textbook readings, and club meetings… surely you deserve a break now. Grab some gelato, hit the couch, and turn on Netflix. And DON'T feel guilty about it all.
Quit complaining about homework and high school, and let it sink in that you only have a limited number of days left at CHS:
Take a deep breath and soak it all in. Walk through the halls and around campus and remember all that you've been through and how much you've grown while being a CHS Bulldog. Go back to that bench you used to spend lunches on with your old boyfriend, or the basketball court where you scored that game-winning shot. Take it all in, one…last…time.