Churchill student will be musical ambassador to China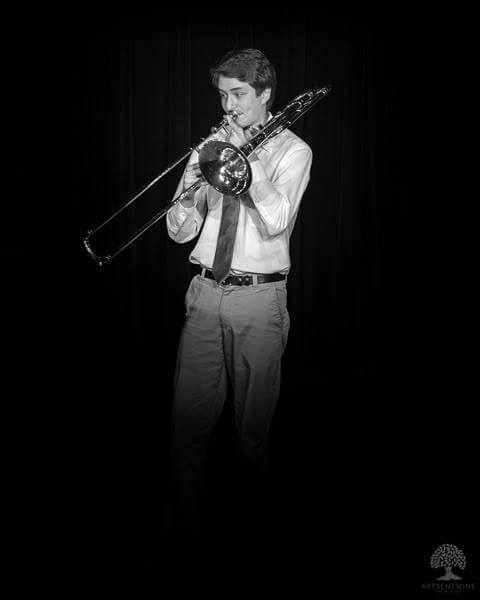 Come July, sophomore Ethan Shrier will become one of a select 113 musical ambassadors to the People's Republic of China. In his words, however, he's just happy to have a chance to play his trombone with other talented young musicians.
Shrier was selected from thousands of high school musicians across the country who auditioned to perform with the National Youth Orchestra (NYO). He and his newfound peers will play seven concerts in some of China's most iconic venues as well as Carnegie Hall.
"I'm excited to meet 112 people exactly like me who love music as much as I do and are as devoted as I am [and] to travel all over China," Shrier said. "I'm probably most excited to perform at Carnegie Hall… doing that is a dream come true."
According to Shrier, auditioning and making the cut for ensembles such as the Maryland All-State Band, Montgomery County Senior Honors Band, and Mid-Atlantic Trombone Choir helped him prepare for the NYO audition.
"I procrastinated and realized I had a week to prepare and record a solo piece," Shrier said. "I didn't feel all that confident, but I practiced a lot and turned it in. The stress level was about the same."
To individuals such as Kristofer Sanz, CHS Instrumental Music director, his February selection did not come as a shock.
"NYO is a nationwide search, so I was very happy to hear he won one of only three spots in the nation," Sanz said.  "In the end, it didn't surprise me because I know how high his work ethic is and how talented he is."
According to Sanz, Shrier's talent was apparent from the first time he heard him play.
"It was very clear that he had a clear sound and tone concept way beyond his years," Sanz said. "His work ethic was also eye-opening; he was putting in two-three hours every day much like a professional musician."
Months after his selection, Shrier's excitement is yet to wear off.
According to Shrier, he was "really working hard" throughout the past year to train for the audition, and was "surprised and excited" to see the countless hours of practice pay off.
Aside from his own talent and work ethic, Shrier has Sanz and his private teacher, Ken Wolff, to thank for the honor.
"Working with Sanz every day had a huge impact on me as a musician," Shrier said. "The energy he brings and the daily rehearsals… really made me into the musician I am."
However, it is Wolff's influence, expertise and encouragement that Shrier is most thankful for.
"I started with him in 6th grade; I was one of the bottom players in that band, but I just worked harder than everybody else," Shier said. "He gave me that extra push to make me the player I am today."
According to Shrier, Wolff also coordinated private rehearsals with fellow professional trombonists, one of whom wrote his NYO recommendation, helping him to join over 100 other musicians on an all-expense-paid concert tour.
According to Shrier, after being selected for the orchestra, "everything is taken care of" financially and logistically. The orchestra's affiliation with Carnegie Hall simply "puts it on another level."
In any case, playing with the NYO is both a dream come true and an impressive achievement for Shrier, who plans on playing trombone professionally.
"There's nothing I'm as passionate about, and you should definitely do what you love as a profession, and music is what I love," Shrier said.
According to Sanz, becoming the first CHS musician to perform with NYO is a well-deserved distinction.
"It's an honor to be conducting such a talented musician, and I'm excited he'll be representing our school and Maryland at the program," Sanz said.