CHS students drowning in college applications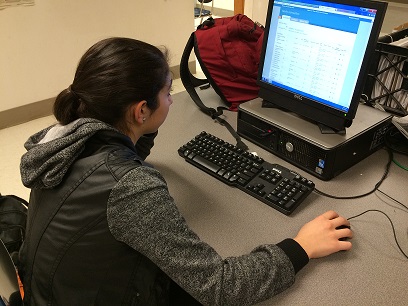 Senior Tiffany Russo stares blankly at the all-too-familiar webpage, flustered. In front of her, 18 tabs appear, each of them corresponding to a certain college, each of them entailing an arduous amount of supplemental essays and other information for her to provide. She, like so many other seniors at CHS and across the country, is drowning in a digital wave of college applications.
Many seniors are finding that the time commitment required for college applications is burdensome and takes away from their ability to apply themselves elsewhere– academically and socially.
"If you apply to more schools, it's all the more difficult to focus on your activities," senior Elina Kapoor said. "You're juggling a lot of balls and don't want them all to fall down."
CHS counselors see more and more students each day, overwhelmed by the stress of applying to so many schools.
"I definitely think it increases stress to some degree," counselor Makeyda Hilliard said. "At the end of the day, you will go to one school, and only you can determine your success."
According to College and Career Coordinator Luana Zimmerman, although the average number of schools CHS seniors are applying to has remained relatively constant at around seven to eight, many students are following a larger, national trend.
"Across the country, the number of schools kids are applying to is going up because schools are marketing them by free applications, interest letters and other things," Zimmerman said. "Students feel if they apply to more schools, it'll increase their odds, which is completely not true."
According to Zimmerman, the problem lies not in the sheer volume of applications, but in the students' refusal to research their own individual needs and the various opportunities each school offers.
"I think oftentimes, students make very superficial analyses of their college lists, instead of looking at what's good socially, what's good academically, and what's good economically," Zimmerman said. "Students are losing sight that this should be a process where you do self-analysis [to find] what environment is right for you; instead, they're applying to certain schools for random, superficial reasons."
Several CHS seniors seem to validate her claim. Kapoor is applying to 15 schools, some of which, she readily admits, are not exactly the right fit.
"There are some colleges I'm only applying to because they're close by, safeties, or because my parents went to them," Kapoor said. "I can see myself as a part of all the other communities. I didn't really 'see myself' at UMD, but my parents said, 'It's in-state, why not apply?'"
According to Russo, who is applying to 18 universities, "might as well" is the name of the game.
"Some of them, I could actually see myself in the school, some of them my parents told me to apply to, and some of them, I'm not too positive about, but I'll wait to hear back," Russo said.
In any case, the increase in the volume of applications has caused a windfall for colleges and universities, according to Zimmerman. The more applications an institution receives, the more selective it can appear to boosters and lawmakers.
"It's all a business," Zimmerman said. "I had my eyes opened by the Dean of Admissions at Case Western: admissions statistics come into play in their bond rating to pay for new buildings and facilities."
This desire for selectivity on the colleges' part leads to a vicious cycle, as applicants feel the need to increase their odds through more and more applications, in turn, colleges appear more and more selective.
According to a member of the counseling department, parents play a role in this cycle, encouraging their children to apply to schools that may not be realistic or the right fit. They "grew up in a different era" when competition between applicants was less cutthroat across the board.
According to Zimmerman, it is important remember is the self-analysis that goes along with determining which schools to apply to, quantity aside. The application tsunami boils down to selectivity on both sides.
"The universities are being very selective in admitting you, but you are not being selective in your choices of where you're applying," Zimmerman said.