'Humans of Churchill' goes viral in Potomac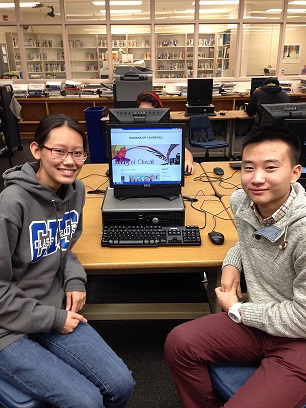 This April, seniors Andy Kuo and Jaclyn Shin created the Humans of Churchill blog, modeled after Brandon Stanton' Humans of New York—a blog that photographs New Yorkers and posts their picture with an accompanying quote about their lives. Kuo and Shin post photographs of CHS students and staff along with a quote or anecdote on Facebook, Weebly and Twitter daily.
This month, the Observer sits down with the "eyes" of CHS—Kuo and Shin—to discuss their blog, which is becoming exponentially popular online.
"Last spring, Andy approached me about doing a project similar to Humans of New York but for CHS," Shin said. "I loved the idea of it, so then we got started on making a Facebook page and website, and boom: Humans of Churchill was born."
According to Kuo, he did not know what Humans of New York was until it showed up on his Facebook newsfeed one day.
"From the start, I loved what Humans of New York was doing," Kuo said. "Then a friend of mine at Wootton created Humans of Wootton, so I thought, 'Hey, why not create one for Churchill?' And that's what we did."
The Humans of Churchill photographers roam the halls of CHS every day, looking for interesting individuals or groups of friends to feature on their blog.
"We try to find random groups of friends who seem close to each other because we want to bring a sense of community," Shin said.
"We try our best to have a variety of students from each grade so that we're not biased."
What most people do not know is the amount of work that is put into each and every Humans of Churchill photograph.
"Even though it might not seem like much, we have to do a lot," Kuo said. "We have to give up almost every lunch to get pictures for Humans of Churchill."
According to Kuo, after finding the perfect subject to capture, they record the conversation so they can get the exact words the people use to create a realistic setting. They then go through the entire recording to find the best quote and post it to Humans of Churchill every evening around 6 p.m.
Kuo and Shin not only act as photographers, but also as journalists. They ask questions that are sometimes humorous, sometimes probing. One such question was "If you could ensure one thing about your future, what would it be?"
"Initially, we looked through the questions asked by Humans of New York, but as we continued with Humans of Churchill, we came up with more of our own," Kuo said. "We actually have a few questions that we thought of when we thought to ourselves, 'What is a question that I wouldn't want to be asked?' That way, we can try to get the more personal answers, instead of just generic responses."
People featured on the blog have been individuals, couples, large groups and even teachers. Social studies teacher Christopher Forney was featured in a Sept. 16 post where was photographed holding up a picture of his daughter; the post received over 160 "likes" on Facebook.
"As a parent, you definitely like to show off your kid," Forney said. "Humans of Churchill captures humanity and allows students to see their teachers and peers in candid moments."
According to Kuo, the blog's popularity has soared since it was started, to the surprise of its founders. They have found that most students are familiar with their blog, which has over 800 "likes" on Facebook.
"My favorite experience with Humans of Churchill has been seeing people get super excited when we approach them for a picture and seeing how people respond to different questions," Shin said. "I never imagined Humans of Churchill would be as big as it has become, and I'm so proud of how far we've come. Most students we ask are already familiar with it and get really excited when we ask for their picture, so that always makes my day. Everyone is also really unique, so we always get such varying responses which can be interesting and amusing at times."
Kuo did not expect the blog to become this popular. Each of their posts receive over 2,000 views, with people from Dubai all the way to Brasilia "liking" the page.
Aside from sharing interesting stories about CHS students, Humans of Churchill is thought to have brought a sense of community to CHS.
"I think Humans of Churchill has brought the Churchill community closer," Shin said. "It shows students the different sides of their peers. That was our original goal—to bring the community together—and I really hope that we've been able to accomplish that at least in some way."
As for the future, Kuo and Shin plan to "find someone who can take over Humans of Churchill in the second semester."
"We hope to find people that will love Humans of Churchill as much as we do," Kuo said.