CHS cluster celebrates Black History Month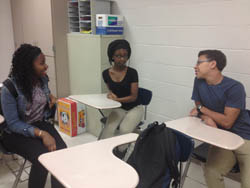 February marks National Black History Month, a month dedicated to recognizing the achievements of African Americans in American history and celebrating African American culture.
Black History Month began as Negro History Week in 1926, celebrated during the second week of February to commemorate the birthdays of Abraham Lincoln and Fredrick Douglass. Negro History Week was created by historian Carter Woodson and the organization he founded, the Association for the Study of Negro Life and History (ASNLH), now called the Association for the Study of African American Life and History (ASALH).
Mayors began to annually recognize Negro History Week, and in 1976 President Ford expanded this week to a month when he made the first Presidential Proclamation of Black History Month.  Every president since Ford has recognized Black History Month, and in 1986 Congress passed a law that designated February as National Black History Month.
"Black History Month is a great way to appreciate African American heritage and culture," freshman Eli Promisel said.  "It gives everyone a chance to appreciate all that African Americans have done for this country."
In honor of Black History Month, CHS and its feeder schools, along with the CHS Cluster NAACP Parents' Council Representatives, are hosting a "Black American History Month Celebration" Feb. 27 at Cabin John Middle School, where MCPS Chief Engagement and Partnership Officer Tim Warner, who connects Montgomery County government and underserved residents, will speak and the CHS Step team will perform.
According to assistant administrator Brandi Richardson, CHS took a "collaborative" approach this year in honoring Black History Month in order to "include our filtering middle and elementary schools."
The CHS Black Student Alliance (BSA) also held extra activities for Black History Month.  While they previously met once a month to research and discuss prominent people of African heritage around the world, this month the club began to meet weekly, which it plans to continue throughout the rest of the year.
"Usually our meetings consist of trying to educate us for the future, but now we're focusing more on what happened in the past," said BSA president junior Maimuna Abdullahi.  "This month we're just focusing on Black History Month—where Black History Month came from and who had the whole idea of coming up with the month."
Some CHS students feel that Black History Month does not promote African American culture effectively.
"Respecting African Americans shouldn't be restricted to one month, especially if it's the shortest month of the year," sophomore Michelle Dan said. "Their culture deserves to be celebrated all year round."
According to sophomore Miles Busby, people do not emphasize Black History Month as much as they should.
Other CHS students believe that Black History Month is a positive way to unite and honor African American communities.
"Black people have worked really hard to be honored and to be known," freshman Taylor Wilkinson said. "It's good that we're being honored like any other people who have gone through so many hardships."
According to sophomore Brenda Mokua, Black History Month is a way to both give back to the African American community for all that they went through and a time to celebrate the different cultures in the African American community.
"It means a unification of black communities across America," BSA vice president junior Maryan Ekoja said. "It gives a goal, a source of motivation, to our black youth."
According to BSA sponsor and math teacher Chris Jackson, the ability to examine the history of one's and others' cultures creates awareness and educates everyone.
"We deserve to be recognized for the backbone we had to fix the injustice in our nation," sophomore Rayvin Huger said.  "We had a lot of violence and unnecessary hate and we overcame that.  It's nice to have a month to be recognized for what we went through in our culture."