Entrepeneur creates mini literature jewelry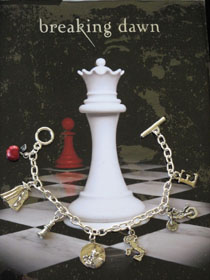 By Jessica Lee, Staff Writer
October 2, 2012
Two books dangle from senior Chani Wereley's ears. The image of a heavyset girl stares from the front cover, every strand of hair visible and each letter in the title legible—impressive, considering the Hairspray playbill earrings are the size of a quarter.
Book Beads is an online business based in Florida that produces coin-sized charms made to look like miniature literature. Besides earrings, the charms also come on necklaces, bracelets, bookmarks and knitting needles.
"I was in a production of Hairspray over the summer," Wereley said. "The earrings look exactly like the Hairspray programs."
Book Beads founder Fe Morales' niece, senior Christine Lorica, also owns some of the products, including a Harry Potter bracelet, whose beads display both the American and British versions of the series' covers.
"I like how my aunt pays so much attention to detail," Lorica said. "Each book bead is handmade, so she has to treat each one with care."
Besides the miniature books, Morales also sells pewter and silver charms resembling famous icons from novels, such as Sherlock's pipe. The Book Beads website has several options for custom purchases in addition to the pre-made products.
According to Morales, it takes three weeks to create a single book bead. She sculpts polymer clay into the shape of tiny books and transfers cover images onto the fronts and backs. She then bakes the clay books and applies protective finish, which takes several days to dry.
Morales started an online store, Just Charming!, which encompasses Book Beads, in November 2008 after she made Twilight charm bracelets  for her daughter's birthday party goody bags.
"I didn't want to waste the supplies and thought I could recoup some of the money," Morales said. "To my surprise, the bracelets sold a lot, to the point that I had to make more."
The following year, large brand stores started DIY jewelry-making sections, creating  more competition for Morales. She began searching for unique craft ideas and found a tutorial of how to make miniature books for dollhouses.
"A quick search online showed me that very few had dabbled into this," Morales said. "Between that 'Eureka!' moment and actually getting the book beads done to the quality I could be proud of, it took eight long months and pounds of book bead clay disasters and mistakes."
Morales is currently constructing a new website for Book Beads.
"My store is an extension of me," Morales said. "As it continues to grow, I marvel at the many friends and associations I've made. Hopefully, the best is yet to come."