Club Night showcases students' unique interests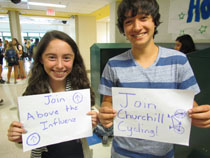 By Ben Fox, Sports Photography Editor
October 2, 2012
CHS hosted its annual Club Night Sept. 20, an event designed to present the hundreds of extracurricular clubs students can join. With so many enthusiastic club leaders and colorful poster boards plastered all over the cafeteria, some found it difficult to decide which clubs to actually join and which clubs to visit just for the free Hershey's Kisses.
Junior Anamika Tandon is one of many students who are overwhelmed by CHS' huge amount of clubs. Many of the clubs she signs up for aren't ones that she plans on following through with during the school year.
"Sometimes clubs convince you to join, even when you don't have a lot of interest in them," Tandon said. "I try to check out as many as possible, but there are only one or two that I actually want to continue with."
The differences between clubs that students like Tandon continue to participate in, and clubs that students give up on can sometimes be hard to understand. Some students start up clubs expecting them to have dozens of members when only a few join. Conversely, other students start a club expecting only a few members and are surprised by how many people share their interests.
Assistant Principal John Taylor ran this year's Club Night and also oversaw which clubs were approved or denied by the school administration.
According to Taylor, a club that is organized and has dependable leadership can more easily attract interested students.
"I think a lot of it is based on how the students organize clubs," Taylor said. "Experienced club leaders go to meetings and cause things to actually get done, while newer organizers can sometimes waste meetings. High school kids don't have time for that."
One CHS club that has continually managed to keep students participating in meetings, going to events, and signing up again year after year is the Debate Team, a club where students take one side of a specific issue and argue its merits against an opponent.
Psychology teacher Jared Pulliam is the staff sponsor of the Debate Team, and tournament director for Montgomery County.
According to Pulliam, club leadership is a huge part of students' dedication to the club.
"I've sponsored clubs that floundered under poor leadership on the students' parts," Pulliam said. "Whoever is the president or captain of the club really is the fuel that keeps the entire machine moving. If they slack off and don't hold meetings, interest is lost across the board."
Another popular club is Model U.N., which boasts over 100 members from all grades. The club has become such a huge success that an accompanying class, taught by staff sponsor Paul Jacobson, has been added to the CHS curriculum this year.
In the Model U.N. club, students take on the role of one of the world's many nations and are presented with different scenarios that can affect that nation. The students then address the issue much like the real United Nations would, with different countries getting a chance to speak and argue.
The class version of Model U.N. is slightly different than the club, with students focusing more on developing ways to compete better, and organizing the annual trip to a convention sponsored by the North American International Model United Nations (N.A.I.M.U.N.). The class is only offered to seniors, while the club is open to all students.
According to Jacobson, Model U.N. has become so successful, and now a class, because it is an "interesting subject," it "looks good on college applications," and students have the N.A.I.M.U.N. convention to enjoy at the end of the school year.
Along with the clubs that are a yearly tradition at CHS, new ones are hoping to find their niche in students' lives. Junior Matt Baris is the founder of Churchill Cycling, a first-year club that is being offered this school year.
According to Baris, the motivation to start Churchill Cycling grew out of his own love for bike riding.
"
There is a huge biking community in Maryland, and there are a lot of kids at CHS who rely on biking as a mode of transportation," Baris said. "I hope that we can work towards having the administration authorize actual mandatory bike rides."
Junior Zoey Maggid is the secretary for Above the Influence, another new club that has already begun holding meetings and putting announcements on the Daily Dose.
According to Maggid, the club's focus is on providing an open and understanding setting for discussing topics like peer pressure and illegal drug use.
"The goal of Above the Influence is to create an environment where students feel safe and supported to make the right decisions," Maggid said. "We want to allow students an opportunity for them to discuss peer pressure surrounding alcohol and drugs or any other pressure they may feel."
If any students missed Club Night, and still wish to join a club, there will be a second Club Night Jan. 24. The choice to join a long-standing club like the Key Club or an exciting new one like the Doctor Who Club is up to each individual student, but no matter what you choose, a club is still one of the best ways to make new friends, and get to know your old ones better.