Senior earns prestigious Eagle Scout ranking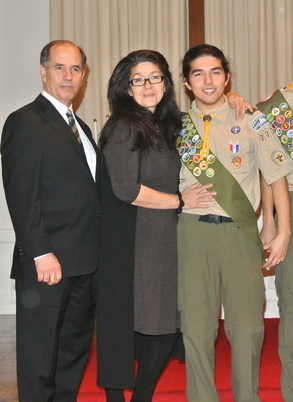 Michael Fusco is an outdoorsman, to say the least. The senior has backpacked 50 miles through the mountains of New Mexico, sailed through the Florida Keys and canoed 100 miles through lakes along the Canadian border, camping on a new island each night of his journey. Since Fusco joined the Boy Scouts with school friends in kindergarten, he has spent plenty of time in the outdoors. Now, all of that time spent in nature has paid off.
Fusco recently became an Eagle Scout, the highest rank a Boy Scout can achieve. After participating in the Boy Scouts for 12 years and rising through the five ranks that precede the rank of Eagle, Fusco finally received the honor in a Feb. 28 ceremony at the Potomac United Methodist Church where his troop, Boy Scout Troop 773, meets.
At the ceremony, Fusco received medals and letter of recognition from local officials, state officials and the President of the United States, as well as a flag that once flew over the capital.
"I started the Scouts just because it seemed fun at the time and gave me something to do outside of school," Fusco said. "I had always thought about becoming an Eagle Scout, but it was only a couple of years ago that I really realized how close I was and started working towards the rank."
The road to becoming an Eagle Scout is not an easy one.  Only about five percent of Boy Scouts actually go on to achieve the rank of Eagle. In addition to fulfilling the requirements of all of the lower scout ranks, Fusco was also required to complete a service project, the most significant requirement of becoming an Eagle Scout.
"You have to organize and oversee [it] and get it approved so it can take months from start to finish," Fusco said. "For mine, I helped repaint and landscape a homeless aid shelter in Washington, D.C."
Aside from the nature element, Fusco enjoys the sense of camaraderie that comes with being a part of the Boy Scouts. After starting the Scouts with his friends from school, he has met many people from other schools and formed tight bonds with his fellow Scouts over the years.
"I love that through the Scouts I could also keep in touch with people from other schools and make friends outside of my grade," Fusco said.
While college may be just around the corner for Fusco, he plans to be as active as he can with the Scouts before he leaves. Additionally, he plans to take his love of nature in to account in his future, as he plans to spend his first year of college studying abroad.
"I'll definitely stay involved in large troop events until college, and then I am going to Northeastern University but spending my first year abroad in Australia," Fusco said.
Fusco recognizes all of the hard work that has gone in to being an Eagle Scout, a rank that he will maintain for life.
"I'm proud of myself for sticking with it all these years and everything I have achieved," Fusco said. "I remember a counselor from Florida urging me, 'Once you're an Eagle Scout, being a Boy Scout stops being uncool."'