Concerts keep the DMV rocking!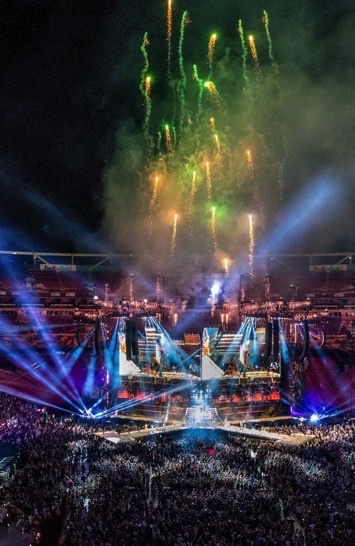 With school nearing an end, WCHS students can look forward to ditching the books and finding some fun ways to unwind. Concerts are a great way to get out of the house and enjoy music with friends. The DC area has an incredibly vibrant music scene, something locals are happy to take advantage of. This summer, there are plenty of concerts and festivals in the area that music-lovers will not want to miss.
Re: SET DMV
This music festival comes at an optimal time for WCHS students, as it takes place from June 16-18, the first weekend after the end of the school year. Held at Merriweather Post Pavilion, the festival will have local food, positive vibes and, of course, music. Featuring artists such as Clairo, Boygenius and Steve Lacy, fans of indie-rock should start clearing their schedules now.
Broccoli City Festival
Broccoli City, a Black-owned social enterprise, is hosting their music festival this summer that is already generating buzz. Major rap artists such as Lil Uzi Vert, Kodak Black and Ice Spice will be headlining the festival. Fans of R&B are also in luck, with performers like Brent Faiyaz and Mariah the Scientist confirming their attendance. Taking place from July 15-16, RFK Festival Grounds is the place to be.
Ed Sheeran
On his first world tour since 2017, Ed Sheeran will be performing songs from his past five albums. He will be accompanied by guests Khalid and Rosa Linn, two other pop soloists. Sheeran's unbelievable success indicates that FedEx Field is bound to be packed on June 24.
Drake & 21 Savage
Drake has remained one of the hottest names in rap for over a decade. Given the fact that he is the most streamed artist of all time on Spotify, his popularity is no secret. As he embarks on his "It's All a Blur Tour" this year, fans are fighting for the chance to see him live. The concert is set to take place on July 28 at Capital One Arena. With 21 Savage by his side, this concert is a must-see for rap fans in the DC area.
Beyoncé
Practically a household name, this artist needs no introduction. Beyoncé's "Renaissance" world tour has been highly anticipated since the Grammy-winning album was released last year. The concert will take place at FedEx Field on August 5. Anyone who manages to get tickets should cherish every second of the iconic performance they will see.
From indie to rap, anyone who is interested in enjoying live music this summer is sure to find something that suits their taste. Although the pandemic temporarily killed events like this, artists such as Ed Sheeran and Beyoncé going on tour confirms the fact that concert culture is back and here to stay.