The "Word" is out: Spring into these D.C. events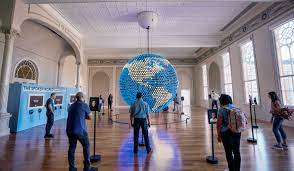 Compare the two choices: stuck inside all day long as various social media platforms endlessly clamor for your attention, or enjoying the fresh spring air while exploring the hidden gems of D.C. As the first official month of spring, March can serve as both a re-entry to the outside world for those who hid from the cold, or a transition into springtime explorations for the yearlong D.C. tourists. 
As with all other months, every day of March is designated as a national, or even international, celebration of something unique. Although it is difficult to celebrate every day, matching up special trips to D.C. with the corresponding celebration can make them all the more exciting.
March 2 – National Read Across America Day (Dr. Seuss Day)
What better way to celebrate National Read Across America Day than visiting a bookstore? Despite its humble roots, Second Story Books has grown to become one of the largest used and rare bookstores in the world. Located on Dupont Circle, it boasts a plethora of out-of-print, used and rare books in good condition that customers can buy for a fraction of the original price; this is the perfect place to strike the balance between the irresistible pull to buy new books and the average WCHS student's limited budget. 
Planet Word is another unique way to celebrate language on this day. Described as "the museum where language comes to life," it is a singular voice-activated museum that includes interactive exhibits such as "First Words," which follows the process of how people learn their first language, and "Words Matter," where visitors can share their story in a fully-equipped recording booth as well as listen to the language stories of others. 
March 3 – National Day of Unplugging
Although this day is not as well known, it has never been more relevant than in 2023, a year of constant trends and online innovations. Take this day to unplug from all devices and enjoy the United States Botanic Garden, which has a combination of outdoor gardens where visitors can enjoy the sun and dynamic exhibits that educate on fascinating botanical topics. "Discover the World of Orchids" is a new exhibition that showcases the diversity of orchids worldwide, providing an unparalleled opportunity to reconnect with nature's meaning. 
For those who enjoy an intellectual challenge and the thrill of a riddle well solved, Labyrinth Games & Puzzles is a store that specializes in non-electronic games and puzzles, both niche and popular. From classic and antique games to jigsaw puzzles, this cozy store may be just the right place to realize that entertainment can come from both offline and online places. 
March 8 – International Women's Day
Celebrated annually on this day, International Women's Day celebrates the women's rights movement and spotlights important advocacy issues. The National Women's History Museum is opening its first physical exhibition, "We Who Believe in Freedom: Black Feminist DC," this March. Its purpose is to show the role Black feminism in D.C played during the civil rights and Black Power movements of the 20th and 21st centuries; visitors will leave empowered by the stories of these incredible female activists.
Although history is the place to start, there is no lack of opportunities to support women in the local community. Suited for Change is a DC. organization that provides professional attire and coaching at no cost for women in need, and they are always looking for volunteers who believe in their mission of a supportive female community. Volunteers can work as stylists who help clients choose their work wardrobe, or lead coaching sessions on skills such as confidence.
March 18 – National Quilting Day
As another lesser known celebration, this is a day that might be thought to have a rather limited audience, but that could not be further from the truth. For beginners, this is the perfect day to dive into this hobby, and A Special Lee Sewing and Craft Cafe is the place to go. As a sewing studio that offers workshops for everything from machine embroidering to quilt design, all are welcome to come and learn. 
For those who are not artistic themselves but appreciate a beautiful canvas, The Point of it All is a delightful needlepoint shop that sells handcrafted canvases, florals, signs and so much more. With designs that appeal to everyone, this store is the go-to for anyone who wants to add a hand-painted canvas to liven up their rooms. 
March 20 – World Flour Day
The perfect conclusion to a busy day of wandering around D.C. is finding a bakery that makes the world seem just a bit brighter and happier. There is no shortage of cafes and bakeries in the area, but there are a few that stand out from the crowd. Seylou Bakery, complete with a humongous oven from Spain and a mill that grinds their organic whole grain flour, is one of these. Famous for its whole wheat versions of popular bakery goods, this is a favorite for many bakery hoppers. 
For those seeking even more creativity, Rose Ave Bakery is an Asian-American bakery that puts unique Asian twists on pastries. With items such as the black sesame donuts, mapo tofu tart croissants and injeolmi red bean cookies, their menu is bursting at the seams with sweet and savory goods that have been found guilty of making customers themselves burst at the seams.
The main takeaway? This is not a month to waste. Around every corner is a different side to D.C., and celebrating the various days of March by visiting these different educational, fulfilling and delicious attractions is certain to help relieve springtime school stress for WCHS students.