Student Art Spotlight: Zoe August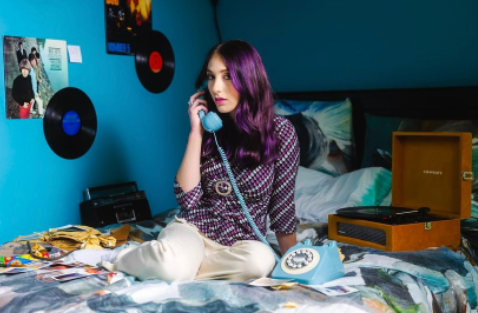 Bright lights, big crowds and blasphemous amounts of money. To many, this comes to mind after hearing the word "musician." To others, it signifies immersion in long-lost childhood fantasy. To Zoe August, it is her reality, passion and outlet. 
Zoe, a WCHS junior, is not only a student balancing academics, social calendars and pressures about the future, but is also a talented singer-songwriter. She currently has music out on Spotify, Apple Music, iTunes and Deezer. 
Having an outlet is a vital tool for processing emotions and adjusting to the ironically constant changes of life. Due to COVID-19 and the consequent quarantine, an outlet became even more indispensable for Zoe and countless other teens. 
"I create and make music to not go absolutely insane. It's an outlet for me to express myself and be super honest [about my life]." August said.
For as long as she can remember, Zoe has been singing, writing, and exploring her interests in music and poetry. Learning piano, guitar and ukulele, making like-minded friends, and getting musical inspiration from artists, such as Taylor Swift, have helped Zoe grow not only as a musician but as a human being. It is from a raw, honest and undeniably human place from which Zoe's lyrics come, discussing anything from offhand comments in childhood to the deep-rooted emotional challenges that come with growing up.
"I get ideas for lyrics and songs from just about anything. I've written songs inspired by dreams, a phrase my middle school English teacher said and an awful ex," August said. "I've even written a song about a houseplant named Eddie, whose life and death marked the beginning and end of a relationship."
Blossoming from a saved note on her phone, titled "Song Seeds," Zoe's songwriting has not only grabbed the attention of local communities but national and international ones as well. In 2021, Zoe's sophomore single "where the happiness hides" was a semifinalist in the International Songwriting Competition, a prestigious competition that receives over 26,000 entries every year. Additionally, she won an honorable mention in the annual Unsigned Only Competition, another renowned competition whose five winners win record deals, serving as a major impetus to kickstart the music careers of independent artists. 
"I'm inspired by […] amazing artists like Taylor Swift, Conan Gray, Cody Fry," August said, " but I'm also inspired by people in my daily life — after all, songwriting is a reflection of the people and situations around me." 
Zoe's dream is to become a touring artist, to travel and make lasting connections with her fans and other musicians, and truly make a career out of her talent and passion. Zoe has already begun making large strides in accomplishing this goal as she plays shows and performs regularly. 
"My ultimate goal is to achieve Taylor Swift level world domination, but in the meantime, I'm hoping to study music business and production in college," August said. 
Along with being valuable to her college resume, being part of chorus class for the entirety of her academic career has stoked the flames of Zoe's love for music. Currently, Zoe is a member of the Showstoppers, a show choir group at WCHS. Additionally, she has taken part in Blast, the annual WCHS-unique production of song and dance. These opportunities have helped Zoe become even more confident in her performing abilities and given her a behind-the-scenes perspective of what it takes to produce a show. In addition to using her dreamlike vibrato on stage, Zoe is also a member of the tech crew and will be in charge of costumes for next school year's productions. Taking part in the arts program at WCHS has given her access to opportunities to further her experiences in the music world, but it has, to an equal if not greater degree, helped Zoe make connections.
"[The WCHS art program has] created a safe space for creativity and self-expression to be explored in all its brutal and raw honesty. It's also given me a great support system," Zoe said. 
Above all, Zoe values and respects the power of music and songwriting with each frantically written lyric and every message conveyed through the nuances of her music. To those who want an outlet and who seek to explore themselves through music and art, Zoe recommends being patient. To her, the remedy for a streak of unsatisfactory products is a heap of crumpled up sticky notes in a trashcan, the tip of a newly sharpened pencil snapping at the start of a new stroke, or a restless hand impatiently tugging at one's roots. The "good" product is worthwhile when it finally emerges from a pile of failures. 
Catch Zoe's latest uncrumpled piece of paper, "the beginning of the end," at "Zoe August" on all platforms, out now on Spotify, Apple Music, iTunes, or Deezer, and make sure to follow her on Instagram for all the latest updates. 
"Thank you so much for the support! I hope my music resonates with you and whatever you may be going through!" August said.