Netflix's "Malcom & Marie" is a mediocre and boring watch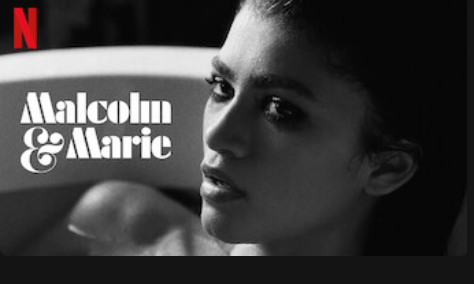 By Charley Hutton, Advertisements and Subscriptions Manager
February 21, 2021
In the midst of Valentine's Day season, it is hard to find a film that satisfies the need for visual romance. Netflix original, "Malcom & Marie" definitely doesn't satisfy that need. The black and white romantic drama is, in one word, boring. 
"Malcom & Marie" begins with the couple returning to their Malibu home following Malcom's movie premier. Marie (Zendaya) is the girlfriend of  filmmaker, Malcolm (John David Washinton). Upon their arrival at home, Malcolm is cheerful and clearly satisfied with how his night went, while Marie is undoubtedly upset with her partner. 
After light bickering, it is revealed that Marie is hurt that Malcom didn't mention her in his thank you speech. This doesn't seem like a big deal until Marie explains that the movie, featuring the story of a young girl working through addiction recovery, is largely based on her life. 
However, as he sits at the dinner table casually eating the mac and cheese that Marie made for him, Malcolm screams across the house to her about how she is "delusional," "mentally unstable" and "psychotic" for being hurt. It becomes evident that Malcom is a self-centered and pretentious gaslighter who does his very best to hurt Marie. And in the words of Marie, he is an expert at emotional terrorism.
"Malcom & Marie" came about when Zendaya asked HBO's "Euphoria" director, Sam Levinson, if they could create and shoot a movie in her house. The plot, although very limited, was inspired by Levinson forgetting to thank his wife at his own movie premiere. 
Zendaya got what she asked for. The entire film was shot inside of her home, which is a particularly notable detail that reflects the isolated way that all viewers have been living for the past year. Each intense scene seems to be shot in a different area of the house, possibly in an attempt to expand the plot and make it less redundant, but that's hard to do when almost every scene revolves around the same idea. The constant fighting between the couple is tiresome and unnecessary and is hard to sit through. 
Although curious viewers might find themselves pressing play on "Malcom & Marie," drawn in by the aesthetic of black and white cinema and a limited jazz soundtrack, the same curious viewers will soon find themselves pressing pause. With all of the passion displayed by the characters, it would be assumed that there would be a rise of tension that draws the viewer in, but it does just the opposite. It is alarmingly mediocre. 
The movie is an hour and forty-five minutes long, and every moment of it is exhausting to watch. The non-stop screaming and yelling is enough to make the viewer want to grab the characters by the shoulders and beg them to shut up. The characters take turns having their own passionate monologues while the other stands there silently listening. The first twenty minutes are enough to be its own short film, without the need for the next hour and twenty-five. 
The acting is impressive but nothing extraordinary. Although both actors are talented, they seem to lose their own individual characters as the movie progresses, and morph into one singular voice. By the end of the film, both characters are clearly toxic, and undeniably wrong for their partner. 
It's a story of a woman who hates herself and a man who loves himself a little too much. Because of this, the movie leaves viewers feeling empty and dissatisfied. Perhaps this was Levinson's goal. Maybe he was trying to show what toxic love looks like in the modern world. Either way, it definitely isn't the best film choice for the Valentines Day season. "Malcolm & Marie" is certainly not going to satisfy your romantic emptiness this February.