Why people love Karen McManus's mystery books is no mystery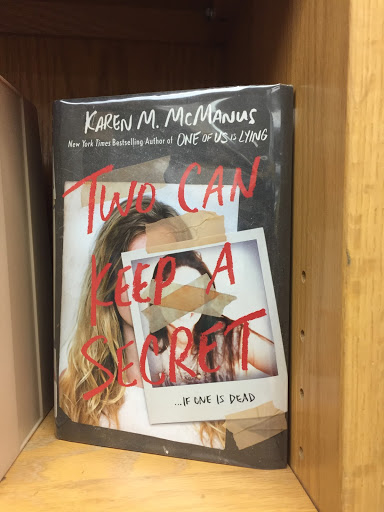 Looking for a great read? With murder? Detention? A twist ending? Karen McManus' One of Us is Lying, and Two Can Keep a Secret are great books. 
The 2018-2019 Black Eyed Susan award-winning novel One of Us is Lying by Karen McManus displays the impact of deep friendships while in an ominous setting. With a story that many high schoolers can relate to and a plot worth reading, the novel demonstrates that one way or another, the truth will come out. 
In One of Us is Lying, Simon, a student and founder of Bayview High's infamous student gossip blog, mysteriously dies in detention. Cooper, Addy, Nate and Bronwyn—four students of Bayview High—are accused as suspects in the death of Simon; they all had motive to kill him.
Baseball star Cooper was accused of using steroids, a cover-up for him being gay. Addy cheated on her boyfriend. Nate, on probation for selling drugs, was selling again. Bronwyn, a straight-A student, cheated on a test. Simon knows all about this, and may spill tea on them. They all have motives. 
The book had a really good plot, that can be related to. It also has a great murder mystery, drawing readers in. This allows her books to become every popular, and not put down. However, in the end, there is a major plot twist.
Due to the immense popularity of One of Us is Lying, Karen McManus recently revealed her second novel: Two Can Keep a Secret. Though it is unrelated to the first book plot-wise, but her second book is likely to draw equal praise as the first. 
Two Can Keep a Secret tells the story of twins Ellery and Ezra, who move into a small Northeastern town that is victimized with murders around Homecoming time. With the twins' aunt serving as one among the many unfortunate victims, Ellery and Ezra begin to hunt for the murderer with the help of their friend, Malcolm.
In her books, Karen McManus writes out must-read page-turners as they give the reader a suspenseful and thrilling chill. McManus effectively tells her stories from multiple points of view, helping the reader gain a sense of what each character deals with.
Not only do her stories emote a sense of fear, but they are also written in such a way that keeps the reader wanting more. McManus successfully ends each chapter with a twist, prompting readers to want to continue reading. In fact, even in the final chapters of Two Can Keep a Secret and One of Us is Lying, there are multiple important points raised that reel in the audience.
Furthermore, McManus never fails in creating a great plot. Her stories start off strong, eventually leading into its exciting climax. Then, once the killer is revealed, the book ends with a sudden bang. Some of her books have climaxes that are a touch too long however, and McManus includes some details that are unimportant to the plot forward. One would not expect a murder mystery such as Two Can Keep a Secret to end in a final scene of Malcolm and Ellery dancing together at a Homecoming. This is bad because it does nothing to add to the plot. However, this is the writing style of McManus that has many people continuing to read her books. 
However, while McManus never fails in writing up a clever plot and interesting—but not necessarily significant—additional scenes, the books' endings are a bit questionable. She has her characters get back to their everyday lives, never truly addressing the murders. In real life, it is likely for witnesses of a murder to remain scarred or to acquire PTSD. Yet, these characters don't have to. That being said, McManus creates a thrilling and imaginary world that lacks certain bits of reality.
McManus novels often are relatable for high school students. There are many events and activities—Homecoming, detention, football games, pep rallies and part-time jobs—that WCHS students can relate to. McManus knows her audience to be teens, and therefore includes these 'normal' events of a teenager's life. However, most high schoolers do not have to deal with accusations of killing another student, or being targeted for murder. This is what makes her novels so appealing.
The most thrilling part of reading a murder mystery is finally finding out who the perpetrator is by the end. This is a McManus specialty.
One of Us is Lying has the audience suspicious of the four students, but at the end of every chapter new information leads readers to question their suspicions. In Two Can Keep a Secret, the twins, Malcolm and other characters are all viable victims. however it's not until the end when it is revealed that an unexpected and unsuspecting character is actually the killer. 
Without her jumping back and forth, the killer would become obvious. This would make the books unenjoyable, because what's the fun of a murder mystery, if you know who did it at the start?
According to the New York Times, One of Us is Lying has been on the New York Times best-seller list for longer than a year. In fact, it will even be heading to NBC Universal's upcoming streaming service, Peacock. The series is expected to launch in April, after its rights were fought over. 
Overall, both of these books have great, relatable characters, page-turning chapters, a plot of wonder, and the ability to hold out the killer's identify until the end. These two must-read books should be at the top of any reader's list.