Cycling studio pedals to CJ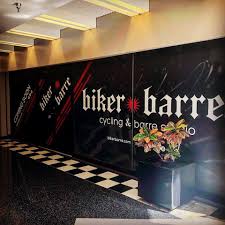 In February, Biker Barre opened a new studio at Cabin John Shopping Center. The franchise started off as the first-ever indoor cycling and barre studio in D.C., but with rivals like Soul Cycle and Zengo Cycle, it's certainly had its fair share of competition in the area.
Biker Barre offers a variety of different classes such as Open Barre, Mini Barre, Barre Breather, as well as four separate types of biking classes with differing degrees of difficulty ranging from beginner to advanced.
The cycling classes are very much like the cycling classes at Zengo Cycle and Soul Cycle; for about an hour you work out on cycling machines following teacher instruction with loud music playing in the background for motivation. However, the barre classes are unique to Biker Barre, an attempt at a combination of yoga, dance and conditioning classes.
Each individual class at Biker Barre is $25 and they must be reserved ahead of time via their website. Although it may seem expensive for a single workout class, Zengo cycle classes are $22 and Soul Cycle classes are $34, so the price is fairly standard. With that being said, Biker Barre offers several different types of class packages, such as a 5 class for $50 deal and unlimited classes for a month deal at $175.
I recently took Biker Barre's Open Barre class for an hour, a class that Biker Barre describes as "low impact, high intensity."
During the class, the instructor gave several different exercises ranging from exercises aimed at increasing abdominal and core strength as well as arm and upper body strength. The instructor demonstrated each exercise and then walked around the class to correct each person and offer help to anyone that wasn't doing the exercise quite right to ensure its effectiveness.
According to Biker Barre, this is supposed to be an all-level class. However even as a dancer, I found this class challenging, so it may not be the right fit for someone looking for a low-key, relaxed workout.
Although intense, the Open Barre was great as a challenging workout, and I do recommend it for anyone that wants to take a difficult class.
The franchise has also seemed to have already earned some regular customers, who in my class, were talking about how they really enjoyed how Biker Barre is not as crowded as other places in the area.
Overall, Biker Barre offers a rigorous and convenient workout that many may find more interesting and exciting than the stereotypical trip to the gym.