P!nk displays dynamic abilities with Beautiful Trama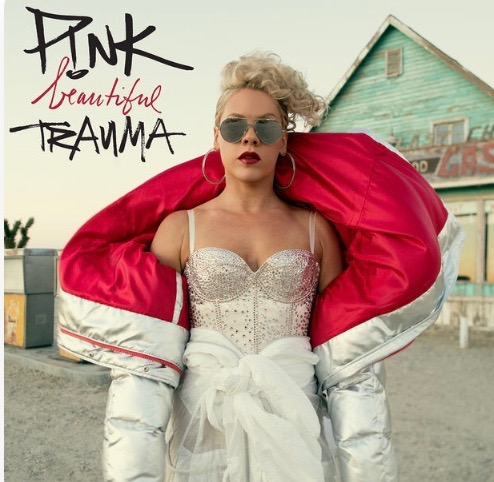 "Beautiful Trauma" is a different shade of P!nk.
Five years after her last album "The Truth About Love," P!nk is back with a brand new album titled "Beautiful Trauma."
While she has been known for her catchy, party rock anthems like "So What," "Raise Your Glass," and "Get the Party Started," P!nk goes for something different on her new album, which is mainly comprised of ballads and love songs. And boy, does she do it well.
One of the most interesting things about this album is that you hear P!nk in ways in which you would never expect to hear her. You wouldn't ever really expect her to start rapping alongside Eminem on one of the leading songs, "Revenge." You also wouldn't really expect her to toy with the beats that many major pop stars use like she does in "Secrets." By exploring new outlets, P!nk broadens her horizons and this is able to give her a much bigger variety in her listeners.
She also is able to give the exact opposite of her energetic, fast paced songs that she is normally known for by producing slower and more emotional songs. P!nk provides beautiful vocals on songs like "But We Lost It," "Wild Hearts Can't be Broken," and "You Get My Love" that allow you to scratch underneath her surface and see the more vulnerable sides of her, which she hasn't really exposed before.
But some things don't really change. P!nk also includes some of classic rock anthem style songs like "Beautiful Trauma," and "What About Us." The energy in these songs along with that strong, raspy voice provide some sure fire-hits in a completely different style..
Despite its successes, the uniqueness of this album may have also caused P!nk's previous listeners to be disappointed. As previously mentioned, this album is such an unusual style for P!nk that some of the songs fall a bit short of expectations. This can be said for some of the emotional ballads like"Barbies" and "For Now." The mix of the style of songs and what P!nk brings to them makes them fall flat, and quite frankly makes them a bit bland.
But that is just a minor flaw in the overall fantastic album. "Beautiful Trauma" proves that P!nk is a dynamic artist that still has a ton of tricks up her sleeve. It only makes her listeners wait in suspense and wonder what she'll come up with for her next work.