CHS Students Have Their Eyes on 'Hamilton'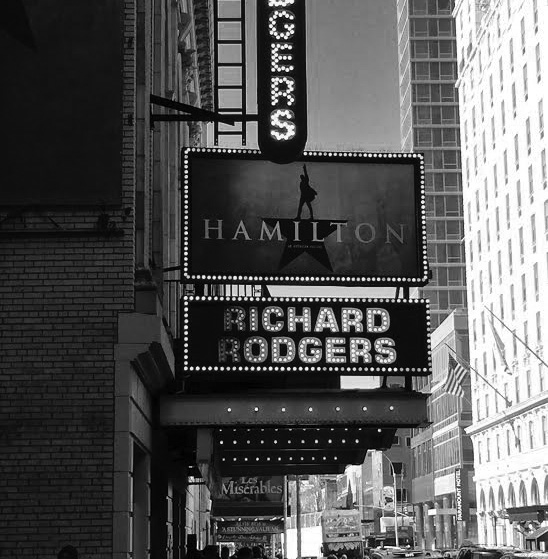 Prepare to learn about our founding fathers as you never have before.
Based off the novel Hamilton by Ron Chernow, composer and lead actor Lin Manuel Miranda's Broadway play Hamilton humorously and poetically delves into the life of America's often forgotten founding father, Alexander Hamilton. Blending the history and language of the Revolutionary War era with the music and politics of today, Hamilton becomes a timeless cultural masterpiece.
Hamilton has already made history. It received the Pulitzer Prize for best drama, and currently holds the record for most Tony nominations, with a staggering 16. It undoubtedly deserves all the recognition it has received.
The curtains open to an energetic and informative hip hop number, "Alexander Hamilton." The musical number sets the exposition and describes how Alexander Hamilton went from his immigrant orphan life to that of an American hero.
Hamilton has a brilliant soundtrack. With standout songs including "Satisfied," beautifully sung by Renee Elise Goldsberry (The Good Wife), and "The Room Where it Happens," sung by Leslie Odom Jr. (Smash), this audacious soundtrack infuses traditional Broadway music, hip hop and poetry to create a cutting edge sound with something for everyone to enjoy.
Following our founding fathers, this play takes risks that separate it from any other musical.
One of the biggest risks that Hamilton takes is casting well-known historical figures as different races and ethnicities. Most of the lead actors are black, but portray white characters, such as
Thomas Jefferson, George Washington, and Aaron Burr. Miranda, who plays Alexander Hamilton, is Puerto
Rican. The only white lead in the play is Jonathan Groff, who portrays King George III.
According to freshman Josie Bourelly, Hamilton "breaks all the stereotypes.The play tells history by the people of the present."
Since the nature of this show is political, it makes sense that this musical's cast is so diverse. While the play does delve into the politics of the Revolutionary War era with great depth, it also highlights the issues facing our current nation such as immigration. Although inserting politics in a play is bold and often polarizing, if done right, it adds cultural significance to the show and connects the past to the present.
Hamilton connects the Revolutionary War era to modern times in a way that Broadway has never seen before. Hamilton succeeds in breaking down the wall of time, portraying these historical figures who lived so long ago as interesting characters rather than old white men from a textbook.
The character development in the musical plays a huge role in breaking this wall. Hamilton, Jefferson and Burr were not perfect, contrary to what one's history teacher may say. In the play, these men deal with issues relating to rivalry, relationships and jealousy,among other conflicts that many people today can relate to. They got themselves into just as many bad situations as they did good, and they evolve as the play proceeds.
Hamilton has also changed the way teachers teach history.
According to AP U.S. History teacher Rodney Van Tassell, he used the song, "Cabinet Battle #1" to help his students understand Hamilton's fiscal plan. AP U.S. History teacher Amanda Marshall used clips from Hamilton as well in her class. "The students really enjoy these clips," Marshall said.
A question that was echoed by every character throughout the play was the question of who will live, who will die and who will tell their story. Director Thomas Kail, Miranda and the rest of the cast told the story of Alexander Hamilton in the most accurate and heartfelt way possible, and Alexander Hamilton can now rest easy, knowing that his story has been told.