Annual Art Festival Highlights Students' Work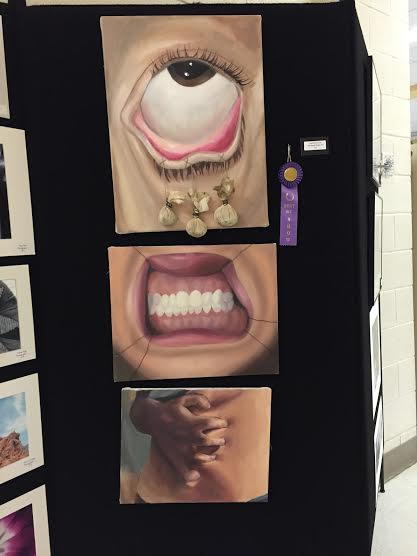 The artwork of CHS students at this year's Art Festival displayed some of the most creative and inspirational pieces from students of all grade levels.
The Art Festival has improved annually in attendance and presentation. The amount of students who have joined the program has increased exponentially, raising the standards of entry into the festival each year.
According to Digital Art teacher Amy Gilbert, this year's art festival held over 500 pieces of student artwork.
The festival has given each student in their respective department a chance to display their best artwork that they have created thus far this year. Students entered into the festival are then further recognized for their true talent and efforts achieved throughout the year.
"I think the festival is important because it's a chance for the art students to show off their skills and work, like how athletes do at games," junior fashion designer Libby Spriggs said. "It's an opportunity to show how strong the arts department is."
Each year, one piece from the festival is chosen as the best artwork on display. This year, senior Josie Scriven was awarded with that prestigious distinction for her paintings depicting the stretching of various parts of the body.
According to freshman photographer Dalya Arik, she strongly believes the festival is important because it gives students a chance to share their talent and passion. She also likes the amount of freedom the art department offers as well, as each assignment is unique and creative.
Since the program has grown, attendance hasn't been an issue for the program due to the increased involvement and support of CHS students, teachers and parents.
The art festival has given students the chance to express their true talent and be recognized for some of their most important pieces.