Drake Versus Meek Mill: Who's the Winner?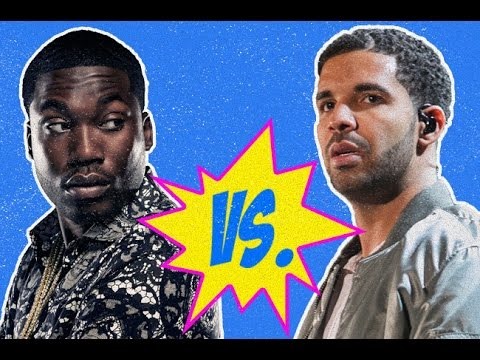 Oh man, oh man. Not again.
In typical rap beef fashion, the first single off of Drake's upcoming album, Views from the 6, is a diss track against rapper Meek Mill, reviving a supposedly dead fight from this summer and once again asking the age old question: "Who's better: Drake or Meek Mill?"
In an attempt to answer this polarizing question, one must visit the place that always seems to play a role in celebrity feuds: Twitter.
It all started last July when Mill decided to voice his frustrations on Twitter about his belief that Drake uses a ghostwriter to write his raps.
Naturally, Drake responded to this seemingly outrageous accusation the only way he knew how, through his music.
Through two songs, "Charged Up" and "Back to Back," Drake went after virtually everything from Meek Mill's girlfriend, Nicki Minaj, to his net worth, a respectable $3 million according to the Celebrity Net Worth website.
"Back to Back" became an instant success, debuting at number 21 on the Billboard Hot 100's chart and even getting nominated for a Grammy for Best Rap Performance.
The artists added fuel to the fire with the recent release of diss tracks from both parties. Currently, the public is divided over who has the better song, and who is the better artist.
Some people believe that Mill put up a good fight against Drake.
According to the Daily Beast website, nobody even considered Meek Mill originally, but with the release of his new song "War Pain," it is clear that he's not going down easily.
However, other CHS students do not share these views.
"Drake is better by far," sophomore Moncef Guen said."His lyrics, his style and flow are all more advanced than Meek's."
Regardless of who's considered better, it is clear that this fight will affect both of their careers, whether it be for better or for worse.
According to a study by Nielsen Music, cited on Billboard Music's website, Drake's album sales went up 12 percent in the wake of the Drake vs. Meek rap feud this summer, while Mill's album sales went down 45 percent.
For Drake, increasing album sales may be his intention with this beef, but for Mill, perhaps his main goal is any publicity at all.
"I didn't even know who Meek Mill was before this," freshman Kareena Nambiar said. "He's only relevant because of Drake."
This beef has propelled a virtually unknown rapper, recognized most due to his famous girlfriend, to a name that everybody's talking about, whether or not people think that he won the feud.
In fact, both parties are undoubtedly, so massively affected by this feud that some people have theories that this is all a publicity stunt.
According to the Loud Banter website, this feud is benefiting Drake and propelling his career so greatly that the possibility of Mill secretly making money through this shouldn't be ruled out.
So who won this beef? In a way, everyone. Drake's album sales surged dramatically, Meek Mill's rising infamy proved that "all publicity is good publicity," and the fans caught a glimpse of what is currently one of the most interesting rap feuds of our generation.