Student self portraits on display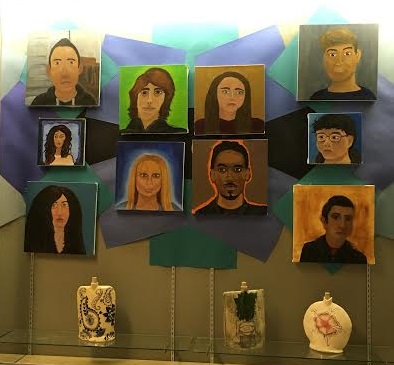 Feb. 19, a new art display of head and shoulder self portraits, painted by the Studio One Art students, was put up on display by Studio Art teacher, Jacquelyn Washam right outside of the art rooms.
"It's very cool, the portraits immediately resonated with me," junior Cameron Etessami said. "I recognized the students in some of the paintings."
In preparation for this painting project, the students practiced and learned how to draw accurate proportions, ensure proper placement of facial features, create light and darker areas and mix paint to portray a particular skin tone.
"We have had lots of practice drawing each others' faces and learning how to accurately draw a head," junior Taira Dolan said. "We have also done different painting assignments to learn different painting techniques. It was about time we put them all together."
The paintings are each unique as they each display different features, such as different backgrounds, which convey the individual artist's emotion and personality.
According to Washam, the class is made up of sophomores and juniors who took a prerequisite course before this class. However, this class is open to all students with artistic ability.
"This project was not easy and they did an amazing job," Washam said.