Senior singer-songwriter films music video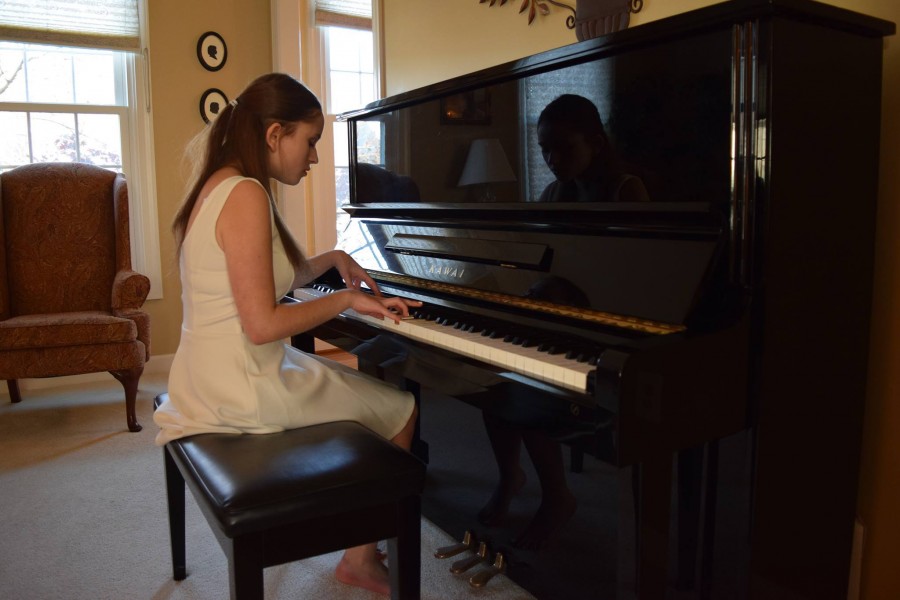 By Emiliana Cardinale, Production Editor
December 23, 2015
Senior Stephanie Safdie wrote "Silhouettes" about nine months ago. The song is a metaphor for deeply falling in love with someone and then having that person disappear or "ghost" you.
A music video for the song, filmed by senior Cameron Ozatalar, is set to come out on Safdie's YouTube account, "sunshinethesinger," before the end of 2015. Safdie and her crew began filming in mid-November and will finish filming this month. As she is in orchestra, Safdie frequently takes friends to the band room to play them her songs.
"Time after time that was always people's favorite song," Safdie said. "I think recording a video for it could help tell the story of the song."
Seniors Lucy Bedewi and Shon Kaganovich are the two main characters in the video.
"I add a visual component to her lyrics that show a girl meeting a guy that she clicks with and then in the end getting her heart broken by him when he ghosts her," Bedewi said.
The video essentially looks back on the two characters' love story from beginning to end and includes parts of Safdie singing the song and playing the piano. The video will show the couple's story from the time they meet through the downfall of their relationship, and will include time elapsing.
"The whole video is me singing it, recounting, as we tell this other couple's story start to finish," Safdie said. "There's going to be really cool scenes that actually make the viewer get attached to the characters, and you'll be sad at the end when you watch it."
Songwriting has always been a huge passion of Safdie's. For as long as she can remember, she has been creating her own music.
"If I can put how I feel into a song and people get to listen to it, that's pretty beautiful to me," Safdie said.
Those involved in this project have grown close while working on it.
"This experience has been so much fun," Bedewi said. "Our group meets all of the time, sometimes to brainstorm ideas for filming, pick out wardrobe and venues or even just hang out."